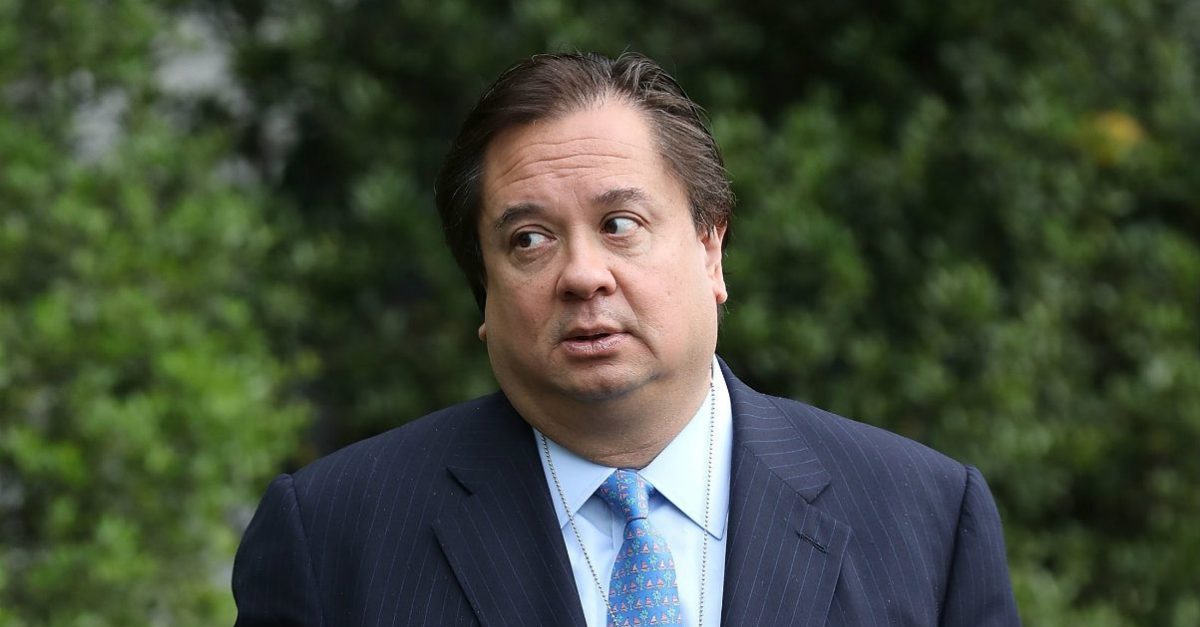 It's Friday morning and Kellyanne Conway's husband is going rogue yet again.
George Conway is back on Twitter and mocking President Trump's firestorm from the increasingly probably government shutdown, the withdrawal from Syria, and the resignation of James Mattis. He started things off by reminding his Twitter following that Trump promised to accept responsibility for a shutdown if the government fails to pass a spending bill by the end of the day.
And Sen. Schumer will no longer be trying to suppress his laughter at Trump. https://t.co/bcFTr4QRt8

— George Conway (@gtconway3d) December 21, 2018
He eventually focused on Mattis's resignation, not only because of the Defense Secretary's disagreements with the president, but also the concerns over the fact that Mattis was one of the most stabilizing elements of the Trump presidency.
Here's what he tweeted and retweeted on the matter:
Who's going to step up? https://t.co/XuXkpkFPmR

— George Conway (@gtconway3d) December 21, 2018
"The Mattis critique is foundational: The president he serves, he suggests in his letter, does not understand the value of allies, or the immorality of disparaging and abandoning them." (via @TheAtlantic):https://t.co/YVZshVkEhq

— Jeffrey Goldberg (@JeffreyGoldberg) December 21, 2018
Really? Cite another SecDef who resigned over policy. I'll wait. https://t.co/KXOwItPdIt

— John Podhoretz (@jpodhoretz) December 21, 2018
Mattis was livid over Syria withdrawal, potential Afghanistan withdrawal & being kept out of decisions by John Bolton. He saw POTUS overruling him on joint chiefs of staff chair as humiliation. He disliked Trump's friendliness w/Putin, among other things. https://t.co/t4hqFtRYPz

— Josh Dawsey (@jdawsey1) December 21, 2018
Finally, Conway took note of how Vladimir Putin is delighted by Trump's decision to pull U.S. troops out of Syria.
Translation: You go ahead and leave; we'll stay. https://t.co/bj8uVHEUuY

— George Conway (@gtconway3d) December 21, 2018
Trump's decision to withdraw from Syria marks a win for Putin https://t.co/i229nZJ6Fc

— The Washington Post (@washingtonpost) December 21, 2018
[Image via Getty]
— —
>> Follow Ken Meyer (@KenMeyer91) on Twitter
Have a tip we should know? tips@mediaite.com