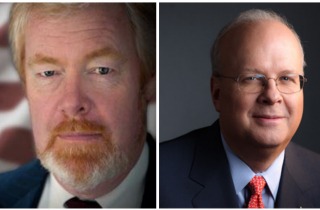 A feud between Brent Bozell, president of the conservative Media Research Center, and Republican strategist Karl Rove laid dormant until Wednesday when Bozell decided it was time to stir the bad blood in an op-ed for Politico Magazine.
Bozell's piece, timidly titled "Karl Rove Is Ruining the GOP," accuses Rove of opposing conservative candidates in the past. It even says Rove fought against Ronald Reagan before he won the GOP presidential nomination in 1980 (a debatable subject that Rove refutes and The Daily Caller's Matt Lewis has covered fairly and extensively).
Bozell's final blow: "It's now time conservatives make sure Karl Rove no longer has any influence on their party."
As an aside, there are several dubious statements in Bozell's column.
For example, Bozell snipes that Rove was dubbed the GOP's "voice of reason" by the liberal Media Matters for America. Yes, but in the same patronizing blog post where MMfA says that, Rove is also called one of the "Most Shameless Political Hacks in America."
Bozell also claims that Rove has called Texas Gov. Rick Perry's (R) state policies "toxic." Not really. Rove actually said a claim in Perry's own book, which refers to Social Security as a "ponzi scheme," was toxic. Rove immediately followed up on that saying Perry has "some formidable strengths."
Third, Bozell says Rove was anti-Marco Rubio in Rubio's 2010 bid for the U.S. Senate. Okay, but Rove actually worked to get Rubio picked up by Mitt Romney as his vice presidential candidate in 2012. Furthermore, Rubio has supported Rove's Conservative Victory Project, which aims to weed out supposedly unelectable Republicans in competitive races.
Bozell's feud with Rove goes back at least to early 2013. Coming off the 2012 election, which saw a lot of investment in terms of money from Rove's Super PAC and yet very few GOP gains, Bozell said Rove was "never conservative." An associate of Rove's fired back, calling Bozell a "hater" with "weird axes to grind."
We've requested comment from Rove.
[Photo via Twitter @brentbozell, @karlrove]
— —
>> Follow Eddie Scarry (@eScarry) on Twitter
Have a tip we should know? tips@mediaite.com