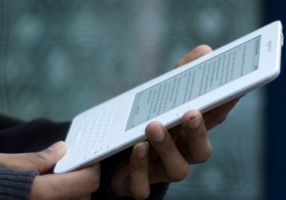 Today, a Bay Area website exposed an internal Time Inc. document outlining plans to start competing with Amazon's Kindle and other electronic readers before the end of the year. Buried in the piece, however, is a more stunning revelation — Time Inc. execs appear to have discussed the new venture with rival magazine publishers, including Condé Nast, Meredith, and Hearst. Can magazine publisher save themselves with an alliance?
NBCBayArea.com claims that Time Inc.'s strategy for entering the e-reader market "are on a fast track," and that they are seeking to unveil its plans within the next three months. The publishing giant appears to be looking to leverage its estimated 100,000,000 readers in hopes to define the future consumption of magazine content.
The article continues:
The Time Inc. presentation, titled "New Platforms & Business Models for Publishers," is dated June 25, 2009, which shows how rapidly Time's internal strategy shifted. The version obtained by NBC shows handwritten notes updating the presentation, which circulated as recently as August, which indicate Time plans to launch something within the next three months.

"We're speaking with a number of hardware and software companies as well as other content companies about various projects," said Time Inc. spokeswoman Dawn Bridges when asked about the project. "At this point we don't have anything else to say publicly."
However, the end of the piece makes the interesting revelation:
The presentation concludes that Time Inc. and other partners should form a new, jointly owned company. Time Inc. might spin out its Maghound service, a service which lets consumers bundle multiple magazines together into a single monthly subscription, to form the base of the joint venture. The company is also considering acquiring other businesses to jumpstart the venture.

Handwritten notes indicate Time Inc. executives have discussed the new venture with other magazine publishers, including Conde Nast, Meredith, and Hearst.
Magazines have begun entering this space via iPhone applications, and with dwindling circulation numbers, publishers are interested in the market as well. News Corp. is reported to be looking into its own electronic reader for its large newspaper business. And Hearst recently released its own plans for an e-reader in March. At that time, Time Inc. executives said they had no plans to enter the field.
Will Time Inc.'s entry into the uncertain e-reader market be a smart move? Lest we forget, this is the company that acquired AOL. However, a larger partnership with other magazine publishers could have better results.
Have a tip we should know? tips@mediaite.com