Limbaugh: Flu 'Epidemic' Media's Latest Excuse To Cover Up For Obama's 'Slipshod' Economic Policies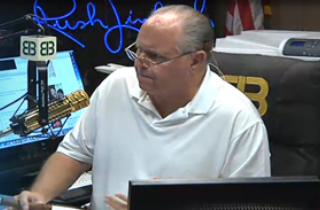 On his radio program this afternoon, Rush Limbaugh suggested that reports of a major influenza virus outbreak are the media's latest excuse to preemptively cover up for the White House's "slipshod" economic policies.
Citing a CNBC article titled "Major Flu Outbreak Threatens to Slow Economy Further," Limbaugh went off on the news outlet, calling it a "friendly to Obama" network that is "part of the trained media" that deals in "making excuses for Obama even before the bad news is even out."
"The purpose of this story is to give everybody in Washington an excuse before the flu outbreak even hits," Limbaugh said. "We do not have an epidemic yet. We may — who knows. But what's being established now is that if and when we have a flu epidemic, that's why the economy slowed down. This'll probably replace Bush for a while."
He continued: "This headline is a made-to-order, built-in excuse to cover for slipshod economic policies out of Washington."
Then taking on a mock-ominous voice, Limbaugh said, "It's possible that this flu outbreak could be so bad, that it could reach epidemic, pandemic proportions that it could throw us right back into recession. Despite the best efforts of the regime to spur the recovery, despite the best efforts to get employment moving in the right direction, despite the best efforts of the smartest people in the world. Damnit, they can't catch a break! Poor Obama! Now it's the flu."
"Did the flu make TIME magazine lay off 700 people?" he concluded.
Listen below:
[h/t DailyRushbo]
— —
>> Follow Andrew Kirell (@AndrewKirell) on Twitter
Have a tip we should know? tips@mediaite.com