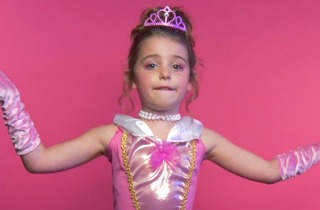 You know how elderly white people trying to rap is off-putting? Well, multiply that by 100 and you'll understand how jarring it is to hear little girls in a new ad repeatedly dropping f-bombs in the name of feminism. Yeah, in this video by FCKH8.com, little girls dressed up as princesses explain how unfair the world is to women with a crapload of words far worse than crapload.
For example, choice phrases include "I'm not some pretty fucking hopeless princess in distress!", "Pay up, motherfucker!", and "Start teaching boys not to fucking rape!" Yes, these little girls also talk about rape, as well as how society judges women's looks and pay equality.
The girls ask, "What is more offensive: a little girl saying fuck or the fucking unequal sexist way society treats girls and women?"
The original video was removed from FCKH8's Vimeo page, but a new, identical version went up Wednesday afternoon:
Potty-Mouthed Princesses Drop F-Bombs for Feminism by FCKH8.com from FCKH8.com on Vimeo.
UPDATE — Oct. 22, 4:35 p.m. ET: Mediaite reached out to FCKH8.com to ask why the video was removed and re-uploaded to Vimeo. Here is the statement we received from a spokesperson:
It seems like this censorship with both Vimeo and Youtube pulling the video is because of user complaints about kids saying fuck. The video does not violate any user guidelines and with all the sexist content on both sites that is allowed to stay up, as well as content that uses this simple four-letter word, we are surprised that they chose to censor it. This censorship gets to the exact point that the girls in the video are making… that society finds it more offensive for a girl to say fuck than they do the fact that 1 out 5 women are sexually assaulted and raped and that women get paid 23% less than men for the exact same work. We will be reuploading and have contacted both Youtube and Vimeo about this. Is YouTube really in the business of censoring their users? Is Vimeo now the politeness police?
[h/t E! Online]
[image via screengrab]
— —
Follow Josh Feldman on Twitter: @feldmaniac
Have a tip we should know? tips@mediaite.com
Josh Feldman - Senior Editor