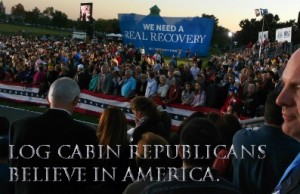 After weeks of holding out on an official endorsement, the Log Cabin Republicans have finally released a formal endorsement of Mitt Romney for the presidency. The endorsement acknowledges the group's big difference with Romney on the gay marriage issue, but says that its agreements with Romney on economic issues take precedence and are enough to warrant an endorsement. The Log Cabin Republicans have come under fire before for endorsing conservative candidates in direct opposition to their group's beliefs about gay marriage, but the group has long maintained it is not their sole criteria for supporting candidates.
RELATED: Gay Republicans On Obama's Gay Marriage Evolution: 'Cold Comfort to LGBT Americans'
The pro-gay GOP group makes it clear that their support for Romney is "qualified," but they still think Romney is the best choice for the presidency.
Despite our disagreement with Governor Romney on the issue of marriage, on balance it is clear that in today's economic climate, concern for the future of our country must be the highest priority. We are Republicans, and we agree with Governor Romney's vision for America in which success is a virtue, equal opportunity is ensured, and leaders recognize that it is the American people, not government, that build our nation and fuel its prosperity.
The group preemptively responds to the inevitable criticism in the title of the press release: "With Endorsement, Log Cabin Republicans Declare 'We Are Americans First'." Last month, Democratic congressman Barney Frank accused the group of being "Uncle Tom[s]" for their support of a political party that has taken a very strong anti-gay position in recent years.
The Log Cabin Republicans responded to Frank, saying that they have always "been on the front lines of the fight for equality" and citing a number of issues they have been powerful voices on, though they did not address how their membership personally reconciles supporting anti-gay candidates. Andrew Rosenthal at The New York Times argues that the endorsement proves that in spite of everything else, the group is quite plainly "another party-line organization."
h/t BuzzFeed
Have a tip we should know? tips@mediaite.com
Josh Feldman - Senior Editor