Lone Survivor Director Clarifies: 'I Have the Utmost Respect for Caitlyn Jenner'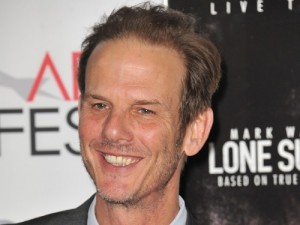 When Caitlyn Jenner took the stage at Wednesday night's ESPY Awards, Lone Survivor and Friday Night Lights director Peter Berg reposted a rather contentious image from Facebook onto his Instagram account. Berg himself didn't actually say anything about Jenner's receiving the Arthur Ashe Courage Award, but by posting the image and commenting "Yup" on it, he agreed with its implication that Jenner didn't deserve the award simply for coming out has transgender.
Unsurprisingly, all of this sent the Internet into a tizzy on Thursday. Some praised Berg for speaking his mind and supporting veterans, while others attacked him for being transphobic. The director quickly posted a followup image, this time displaying a field of miniature American flags foregrounded by statistics about veteran suicide.
He also wrote much more than a one-word comment in the hopes of clarifying his position:
I have the utmost respect for Caitlyn Jenner and I am a strong supporter of equality and the rights of trans people everywhere. I also believe that we don't give enough attention to our courageous returning war veterans, many of whom have sacrificed their bodies and mental health for our country and our principals- principals that include the freedom to live the life you want to live without persecution or abuse.
This being the Internet, Berg's followup probably won't change a drastic number of hearts and minds, but it at least helps to somewhat clarify his own position on the matter.
Here is the followup on Instagram:
[h/t Gawker]
[Image via Shutterstock.com]
— —
>> Follow Andrew Husband (@AndrewHusband) on Twitter
Have a tip we should know? tips@mediaite.com