Love Lost? Michelle Malkin and Vargas Trade Snipes Year After Proposed Filipino Dinner Date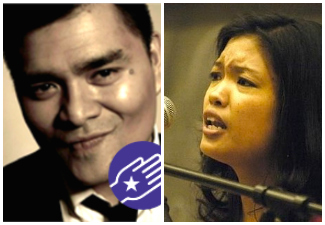 A lot can happen over the course of one year. Relationships can grow, fizzle or turn outright hostile as demonstrated Wednesday by conservative pundit Michelle Malkin and journalist-turned-immigration activist Jose Antonio Vargas.
Vargas recently made news by heading to the southern U.S. border as an act of solidarity with his fellow undocumented immigrants trying to make their way to the states from Mexico. He was arrested and released shortly thereafter. A videographer traveling with Vargas captured the whole thing.
Malkin wrote about the incident in her latest column, titled "Jose Antonio Vargas: The face of the entitled illegal alien." She called his trip to the border a "stunt" that was both "smug" and an "emblematic middle finger to everyone outside the D.C.-Manhattan bubble who believes in following the rules."
Asked to respond, Vargas, who insisted on CNN Wednesday that he wasn't engaged in a "stunt," cried foul.
"I want a solution," he told Mediaite, "not the usual pernicious finger-pointing, name-calling diatribe."
"What does she suggest I do?" he added. "Continue working and hiding, as I did for 14 years while writing for newspapers and magazines, or 'out' myself and expose the cracks in our broken immigration system that is urgent need of a solution?"
This is a long way from where Vargas and Malkin were just a little over a year ago.
In April 2013, after Malkin wrote about Vargas's status as an undocumented immigrant living openly in the U.S, the activist responded. "I'd love to cook dinner for Michelle Malkin, make her adobo (traditional Filipino dish) and talk immigration," Vargas said in response on Twitter (both he and Malkin are of Filipino descent). The activist suggested Malkin should name a time and place for the date.
The conservative columnist seemed open to the offer as the two cordially debated the immigration issue through their tweets. "I'm glad we can speak civilly and peacefully to each other about our disagreements," she said at one point.
So what happened to that friendly rapport?
For his part, Vargas says he would still cook dinner for Malkin. "I would still love to make her some adobo," he told us. "I think she prefers more vinegar. That's fine by me."
We've requested comment from Malkin.
[Photo via MichelleMalkin.com and Twitter]
— —
>> Follow Eddie Scarry (@escarry) on Twitter
Have a tip we should know? tips@mediaite.com