Maddow Beats Tucker Carlson Friday, Tops Cable News in 25-54 Demo for the Week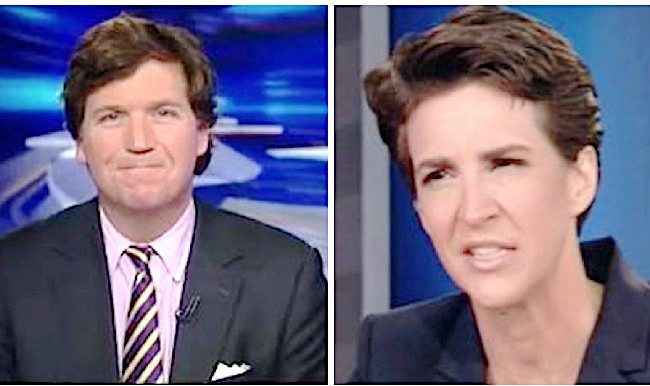 Following Election Day, one of the big winners in the cable news ratings race has been MSNBC's The Rachel Maddow Show. In fact, over the past few weeks, host Rachel Maddow has seen her biggest audiences since October 2008, right before Barack Obama's election.
Well, the upward trend continues for Maddow, and it appears that she is challenging Fox News' cable news primetime dominance. On Friday, Maddow drew 2.403 million total viewers and 549,000 in the key 25-54 demographic. Those numbers did not just win her timeslot, beating Fox News' Tucker Carlson Tonight and CNN's Special Report, but she was tops in all of cable news primetime in both total and demo viewers.
In fact, Friday night represented the third straight night she defeated Tucker Carlson Tonight head-to-head. (To be fair, one of those nights Fox News had a guest host.) For the week, the two programs finished in nearly a dead heat, with Maddow averaging 2.62 million total viewers against Tucker's 2.64 million. However, Maddow's demo numbers for the week (624,000) not only beat Carlson, it topped cable news. (The O'Reilly Factor was close by with 618,000 for the week.)
Last week represented the best total week in viewers for TRMS since October 27th, 2008 and highest 25-54 week since November 5th, 2012.
Maddow isn't the only program aimed at liberals and progressives that is seeing a boost in its ratings. As our own Lindsey Ellefson highlighted this week, other hosts like Stephen Colbert, Trevor Noah, and Bill Maher have also seen boosts in their audiences. On top of that, the entire MSNBC primetime slate is seeing a huge surge compared to last year, with the network seeing a 72% increase compared to last March.
[image via screengrab]
——
Follow Justin Baragona on Twitter: @justinbaragona
Have a tip we should know? tips@mediaite.com