Man Allegedly Stomped On For Supporting Ron Paul Suing Newt Gingrich For Assault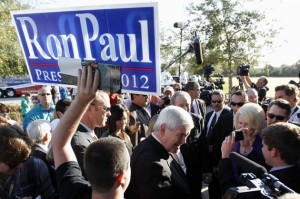 A man who brought a Rep. Ron Paul sign to a Newt Gingrich rally is now suing the former House Speaker and his security team for, among other things, assault. Eddie Dillard, it was reported last week, arrived at a Gingrich event in Florida and was deemed to be too close to the stage where Gingrich was speaking, sporting a "Ron Paul" sign. He told reporter campaign security staff told the crowd to step on his toes.
RELATED: Newt Gingrich Security Team Reportedly Stomps A Ron Paul Supporter, Kicks Away His Flip-Flop
TMZ now reports that a lawsuit has been filed on the matter, as Dillard argues that he was near a polling place when the Gingriches arrived, and that he now has a fractured foot thanks to being stomped on intentionally by campaign security:
In a lawsuit filed yesterday in U.S. District court in Florida, Edward Dillard claims he was just minding his own business on January 31 when Newt and his wife came strolling up to the polling place. Dillard claims he was standing outside of a canopy which had been set up with a microphone stand, when Newt and Callista came right up to him and shook his hand.

Dillard claims Newt then noticed his Ron Paul t-shirt and "immediately turned his back" to him and went on to greet other people. That's when Dillard claims several of Gingrich's security team came up to him and tried to "intimidate him into moving from the spot."

Dillard — who says he was wearing open-toed sandals — then claims one of the agents "lifted his heeled shoe over Dillard's right foot and dug the back of it into his skin, twisting it side-to-side like he was stomping out a cigarette, causing a fracture to Dillard's right foot."
While it is uncertain what sort of relief the civil suit demands, TMZ notes that the campaign has not commented and that assault and battery are the charges for which he is seeking redress.
Have a tip we should know? tips@mediaite.com