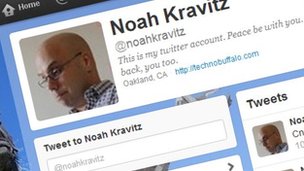 How much is each of your Twitter followers worth to you? Try about $2.50 each as mild-manned tech writer Noah Kravitz found out, after his erstwhile employer sued him for damages for keeping Twitter followers he amassed while blogging for the company.
Kravitz had left the company and was told he could "tweet on their behalf from time to time and I said sure, as we were parting on good terms."
So Kravitz changed his user name from @Phonedog_Noah to @noahkravitz with the followers still intact.
Eight month later, PhoneDog litigiously bit Kravitz in the leg claiming his Twitter followers were actually a customer list, and sued him for $340,000 in damages (or $2.50 for each follower).
"The costs and resources invested by PhoneDog Media into growing its followers, fans and general brand awareness through social media are substantial and are considered property of PhoneDog Media L.L.C," the phone company said to The New York Times. "We intend to aggressively protect our customer lists and confidential information, intellectual property, trademark and brands."
The case could have major legal implications for the future of social media, The New York Times's John Biggs reports:
"This will establish precedent in the online world, as it relates to ownership of social media accounts," said Henry J. Cittone, a lawyer in New York who litigates intellectual property disputes. "We've actually been waiting to see such a case as many of our clients are concerned about the ownership of social media accounts vis-á-vis their branding."
Watch Kravitz discuss the case with Mashable below:
Have a tip we should know? tips@mediaite.com