Mark's Mediaite Mailbox: Bizarro Pitches, An Awesome Job Offer, And 'The Most Important Email EVER!'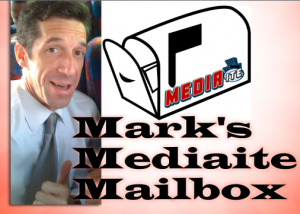 Folks, it's Wednesday, and that means it's time for your humble reporter to take a moment at mid-week to clear out the old Mediaite mailbox. Sitting here–as we do–at the intersection of media and politics, we're subject to a crapstorm of email, and I thought perhaps you'd like to take a moment and enjoy a few of this week's gems as they make the transition from inbox to trash. Let's be clear, I love getting mail. And connecting with you, dear reader, is one of the great parts of this job, whether it's on the comments page, by email, or on Twitter. But man, some of this stuff is just so hilariously terrible and/or the product of a mind that's pretty clearly gone off its meds. Like what, you ask?
Great Pitches: We get pitched daily by people anxious to have us write about all sorts of things and all kinds of people. This week, we heard from a person who goes by the name Psycrow, who wrote this week to tell us all about "a new free-to-web series" that's "a unique anime/game/comic style series." The storyline, which reminds me of the hand-scrawled letters I received as a local television reporter, goes something like this:
These events take place in our distant future, long after the apocalypse, a time with many worlds that contain human life. The main eight heroes (which form a group called The Paladins) fight against Satan and his forces in this time, and each have a strong, distinctive personality–

— Nima, the zealous elf

– Fion, the confident human 

— Ensi, the compassionate fairy 

— Gallo, the pirate dwarf 

— Vinx, the brilliant but tough-as-nails catgirl

– Surne, the psychic werewolf bounty hunter 

— Aka, the angel and behind-the-scenes leader 

— Rayze, a former villian who joined the Paladins only later into the RPG. She was killed 100 years by a group of Satan worshippers and forced under their control as an undead, being made to help them commit murders in their quest to gain enough power to summon Satan.
Help With English: Our readers have a deep and abiding love for the English language, and leap to our aid when—on rare occasions—we slip. Take, for instance, this email: "The headline includes the word "everyday."
"The headline includes the word "everyday." Everyday means ordinary or commonplace. I believe you mean "every day", which means every 24 hour period."
Now I'm not sure what story he's referring to, but I do like the way he described the difference between everyday and every day, didn't you?
Grab Bag Of Goodness: We were offered lots of "link exchange" deals, a pretty compelling opportunity to increase the size of a part of my anatomy, and a bunch of emails that implied that I'm an idiot. A company in Hawaii emailed to offer us pick up and deliver service ("you call, we haul"). We'd have to call Hawaii, and they'd haul our stuff in New York?
And a gentleman in Ningbo, China said it'd be absolutely no problem to provide us with a custom price (a very competitive one, at that) for "frameless painting."
We were offered interviews, stories, free samples and advice on building our business. (It's amazing how kind and giving people can be) We were invited to parties, alerted to conspiracies, accused of being key players in other conspiracies, and we received about a dozen emails written in languages none of us can read. (Sorry, if you haven't heard back from us) And just this morning, a company wrote in to suggest we might want to buy "anti-stab vests" for the team. (What does he know that I don't?)
Amazing Job Offer: Not to brag or anything, but the inbox brought a pretty sweet job offer. Check this out:
I will like to announce to you that i and my family is looking for
a good and a
responsible Nanny,Who will be very faithful,honest and trust wordy.To
replace our present
NANNY Mrs,Elisabeth who just got married and relocated to Europe with
her husband,and because my wife and I is not always around to take
care of our two kids which are 4 – 6 years respectively,we are looking
for a NANNY or a CAREGIVER who will be willing to travel down here in
England U.K to work for my family.
The Job details is as follows,
(1).Job duration One (1) year
(2).Job type Contract.
(3).Job Status Live in.
(4).Job Location London England U.K
(5).Job Salary Three thousand (3,000)GBP.
Out of all the people in the world, who gets this email? I do. So, if I'm not here next week, you'll know what happened. I'll be living large in London town, losers!
And finally, there was this. An email that came with the too-good-to-be-true subject line: MOST IMPORTANT EMAIL EVER. What's the content of the email? Well, lots of CAPITAL LETTERS, that's one thing. And sentences like this: "Obama is a Lying Racists, Baby Killing, Evil, Hateful, Commie Muslim Imposter who was born in Kenya and should be Arrested, Fired and Impeached."
I forwarded it to the guy who wrote in to help us with grammar. Because I'm cool like that.
Have a tip we should know? tips@mediaite.com