Mark's Mediaite Mailbox: No, We Can't Do Your Cousin's Dental Surgery Or Fill Your 'Urgent' Order For T-Shirts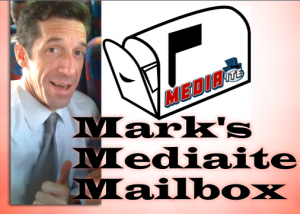 It's time for the mid-week cleaning of the old Mediaite mailbox, and as per the proverbial norm, the inbox is stuffed with emails from folks who seem to have a somewhat confused concept of what Mediaite is all about. Like what? Well, we do a lot of things, but we don't do root canals–simply not a service we offer. We don't have the training, the equipment, or, frankly, the desire to fill the office with the sounds of your screaming. And yet, here comes a message from a chap named Jake who writes:
Dental implants surgery Required
Good Morning ,

My name is Dr Jake Kumar. I wish to make an inquiry for treatments
for my cousin and her daughter with your hospital. My cousin needs a
root canal treatment while her daughter needs dental implants surgery.
Do you offer both services , if so could you please get back to me, so
that we can proceed with the details as well as the payment
arrangements to secure the consultation.
Also , can you please confirm if you accept credit card payments , as
I will be paying with my master/visa credit cards.
Additionally , we will also need some spa services. Do you render this
service too , if not could you please get back to me with the contact
information for any spa directory in your city.
We will like to make the consultation and booking from the Sept 12th 2011

Regards,
Jake Kumar
Doc, you should really put a tad more thought into where you send your own family members for treatment. A media blog would not be a choice that most dental professionals would consider top tier for dental implants surgery. Also, the only "spa directory" I could find here at the Mediaite offices was probably not the kind you're looking for.
We got a bunch of angry emails about our use of English, our alleged bias in favor of or in opposition to certain figures in politics and media, and we were contacted by a company in the U.K. that seems to think we need to hire help. You know, like "care givers" or nannies:
Dear Sir/Madame .

We have the following applicants available ready to start work ASAP :
Care Assistants
Care Givers
Live in Carers
Domestic & Cleaning Staff
Au Pairs
Nannies
Mother's Help
We will be happy to supply you with the staff you need.
If you have vacancies please do not hesitate to send them to us, we will be happy to help you solving your staffing needs!

Best Regards
Tony Smith
Even if, say, we decided it was a good idea to hire a care assistant for Johann Bershad or Colby Hall, we'd probably start looking closer to home that the U.K., though the ability to start work "ASAP" is attractive and we'll keep your contact information on file.
Beyond the offers, there were orders. Lots and lots of strange orders. For the record, folks, we don't sell tractors, heavy duty industrial oil drills, lab equipment or t-shirts. And yet, the orders keep flooding the inbox–most of them marked URGENT:
Hello
This is Bob and I will like to order ( Corral Panel )Do get back to
me with the types and cost for the ones you do carry and let me know
if there is an extra cost when using visa or master Card.Kindly get
back to me with your name Are you the sales manager or the Owner?
Regards….
Bob Wilson
I will to make a special order of T-shirts: Below is what am looking on the T-shirts:

Tee Shirts blank
Brand: Gildan
Size : Adult Small
Color : White
: 50/50 % Cotton
Qtys : 600

Let me know the total cost without shipping..
Thank you
If the orders keep coming, I'm going to suggest we start stocking some of this stuff.
Finally, following last week's email urging me to buy a "stab-proof vest" comes another friendly hint that I might want to dramatically up my personal security profile (again, I ask, what do these folks know that I don't?). This time, it's an armored vehicle:
These vehicles are available as B6 or B6+ Armored Level.
It comes with a complete mini bar, Mini fridge, 32″ TV (cable capability, DVD system, Radio, PC friendly), Full video system with 3 cameras (Driver, front and rear outside view.) Executive reclinate chairs (Heated with different massage modes). Computer/reading tray and many other options available per request.
Sounds pretty sweet, actually. And it makes sense, since my driver (trained in evasive and offensive vehicular tactics) has really been feeling underutilized following me around on the subway.
Have a tip we should know? tips@mediaite.com