Martin O'Malley: Hillary Has No Exec Experience, 'Contrasts Will Become Apparent'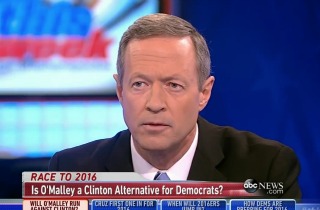 In former Maryland Gov. Martin O'Malley's extensive interview with NPR's Steve Inskeep, the likely 2016 presidential candidate went after already-declared Democratic candidate Hillary Clinton for her apparent lack of so-called executive experience.
"Well I think that Secretary Clinton and I bring different backgrounds and different experience to the task of getting things done," O'Malley said when asked what differences voters will see between him and the former Secretary of State. "I have been a big city mayor and I have been a governor. In other words, I've been an executive and a progressive executive with a record of accomplishments."
While Clinton will be able to talk about her experience as a Senator and Secretary of State, O'Malley said the differences between his executive experience and the lack of Clinton's "will become apparent."
O'Malley also said there will be a "perspective difference" between him and Clinton, as he has been able to speak to younger voters who want a leader that governs with the sense that today's world is more "connected … collaborative and open and transparent."
–RELATED: Schieffer to O'Malley: Why Are You the Only One 'Even Thinking of Challenging' Hillary?
In a thinly-veiled shot at Clinton in March, O'Malley said the presidency is "not some crown to be passed between two families." Elsewhere in the NPR interview, O'Malley talked economic regulation and the middle class. He says he will make his decision on whether to seek the presidency by the end of May.
Listen to the full interview below, via NPR:
[Image via screengrab]
— —
>>Follow Andrew Desiderio (@forza_desiderio) on Twitter
Have a tip we should know? tips@mediaite.com