Maybe They DO Put Crack in the Burritos: Chipotle Exec Sidelined After Cocaine Arrest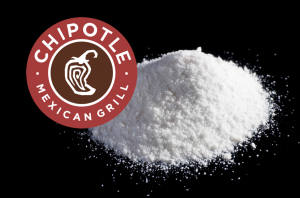 We all know the popular question that people always ask after eating some delicious burrito concoction from Chipotle: do they put crack in this thing?
Well now, the food giant has sidelined one of its highest-ranking executives after his arrest in connection with a Lower East Side cocaine ring in New York City.
Chief Creative and Development Officer Mark Crumpacker of Chipotle was one of eighteen customers arraigned by NYPD Thursday in a sting operation that targeted coke sales at "many" Duane Reade and CVS pharmacies in Manhattan. Crumpacker was placed on administrative leave by the company while it awaits more information on the alleged possession charges.
Also among those arrested was a Fox Business producer who worked for Mornings With Maria: 29-year-old Katherine Weinhofer. Allegedly the Fox Business Network staffer had cocaine delivered directly to the door of her Chelsea apartment.
Manhattan District Attorney Cyrus Vance called the operation, "a high-end, on-demand service," with cocaine going for twice the normal street evaluation. Three dealers were also arrested in connection with selling about $75,000 worth of the stuff.
A Chipotle spokesperson said of Crumpacker's situation, "At the moment, we know very little about these charges. Due to the nature of the situation, Mark has been placed on administrative leave."
Crumpacker was tasked with overseeing the recovery efforts after the company took a hit regarding food safety issues last year. According to Ad Age, "Mr. Crumpacker was named Chipotle's chief marketing officer in January 2009, became chief development officer in October 2013 and took on the role of chief creative and development officer in March 2015."
—
J.D. Durkin (@jiveDurkey) is an editorial producer and columnist at Mediaite.
[h/t AdAge]
Have a tip we should know? tips@mediaite.com