Media Matters Writer Apologizes After Accusing Drudge Of Posting Fake Trayvon Martin Photo
Media Matters Writer Apologizes To Drudge...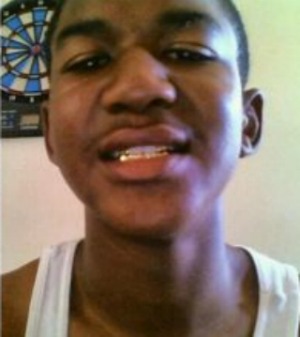 Media Matters' MJ Rosenberg has apologized for having accused conservative news aggregator Matt Drudge of posting a picture of a young black man other than Trayvon Martin for "incitement purposes."
Drudge's photo was, in fact, of Martin — it was simply a more recent photo of the teen than those that have been widely circulated in the media.
RELATED: Jon Stewart Returns With Hoodie-Tastic Trayvon Martin Outrage Roundup
"Racist demagogue Drudge continues to run photo of some kid, not Trayvon for incitement purposes," Rosenberg had Tweeted, later adding that "Matt Drudge has done more to debase American news coverage than anyone in history of country."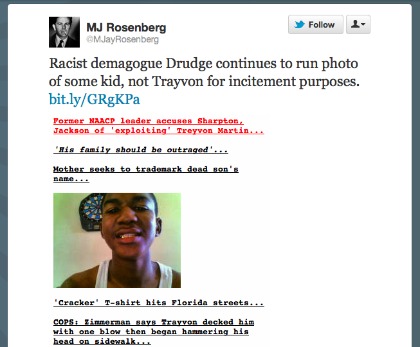 As FoxNews.com reports, Rosenberg had explained that he'd gotten Drudge's photo confused with one used on Michelle Malkin's new site, Twitchy:

But he was tweeting a different tune at 1:03 p.m., when he wrote, "Mixed up Drudge photo of Trayvon w Michelle Malkin's. Malkin's is an admitted fake. Drudge? Don't know. Sorry." That tweet was immediately followed by another saying, "Malkin apologized for fake #Trayvon photo. I apologize for mixing up her photo with one Drudge used."

Malkin's site, twitchy.com, ran a photo it said was Martin shirtless and giving two middle fingers to the camera and said it was a photo the mainstream media was refusing to show. But it was not the same photo Rosenberg objected to on Drudge, so it was unclear how he confused the two. Malkin's apology was also more unequivocal than Rosenberg's.

"We made a mistake," the site said in a post that later ran beneath the photo. "The photo on the right is not of the Trayvon Martin who was shot by Zimmerman. We apologize to our readers and to the Martin family."
The more recent photo of the 17-year-old had been taken from his now-defunct Twitter page.
h/t FoxNews.com
Have a tip we should know? tips@mediaite.com