The White House held its annual Christmas party for the press last night, and the press came out in full force to celebrate themselves.
FishbowlDC tweeted a lengthy list of names of who were there, and other journalists put their personal reports up late last night. But one image won the night.
Let's all take a minute to take this in – and start thinking of a caption: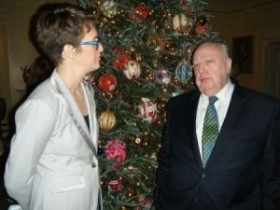 Just to clarify, this is MSNBC host Rachel Maddow and Fox News Chairman Roger Ailes just, you know, chatting by a Christmas tree, NBD. But here's the backstory:
This is a twitpic from Sam Feist, CNN Vice President (follow him here). It's his first twitpic ever, and what a good one it is. It came with this statement: "Rachel Maddow and Roger Ailes in deep discussion tonight at the White House."
The image doesn't seem to show a deep discussion. But here's what Feist tweeted a few minutes before: "Most interesting scene at White House reception: Rachel Maddow engrossed in deep conversation with… Roger Ailes."
Here's what happened – Maddow and Ailes were chatting, Feist saw it (there weren't many other comments about this, although Andrea Mitchell mentioned it as well today on Morning Joe), he thought 'hey maybe I'll take a picture,' they stopped talking, and we can now let the speculation about what this "deep conversation" was about.
So – leave your caption in the comments! (And maybe Maddow will talk about it on her show today.)
This was our 2nd favorite photo we saw last night – CNN's Roland Martin and FNC's Bill O'Reilly. Eggnog at the White House – it brings people together: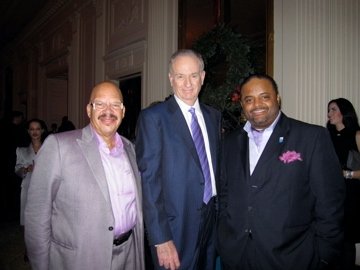 —–
» Follow Steve Krakauer on Twitter
Have a tip we should know? tips@mediaite.com