Meet The Democrat Running For Anthony Weiner's Old Seat (And Watch Him Dance!)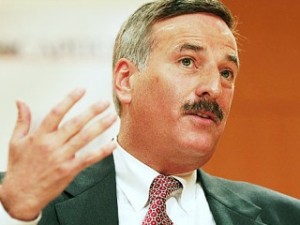 Now that the dust has settled on the scandal that pushed Anthony Weiner out of office, New York Democrats have made their choice for the Congressman to replace him: NY Assemblyman and former NYC City Councilman David Weprin. Weprin will be running against a yet-to-be-chosen Republican from the NY-9 seat, and would hold it until the end of 2012.
The New York Times reported the New York Democrats' announcement today, noting that, given the 2010 census, the Congressional seat may not even exist in the near future. "As a result of the 2010 census, New York must lose two Congressional seats, and some political observers believe that the Ninth District, which includes parts of Brooklyn and Queens, could be eliminated," the Times reports. But for now, Weprin is going to campaign for the seat, based on his experience as an assemblyman and city councilman. The Times also notes that Weprin is an attorney from "a member of a prominent Queens political family." Weprin also gave a statement to the New York Daily News:
"This is an exciting opportunity and I'm looking forward to the campaign," he said, adding: "I've never tweeted in my life and I don't spend any time in the gym." […]

"I read the same things you read," he said. "I'm not going in with any preconceived notion. I'm going to do the best job I can for as long as I can do it… The bottom line is I feel strongly that I can make a contribution now and now is the opportunity that may never arise ever again and sometimes you have to seize the opportunities when they arise. But more than that, I really feel that the district needs representation, whether for a short period of time or a long period of time."
The other tidbit of information out there is that Weprin has been known to do some public dancing– specifically, this YouTube video of Weprin getting down at a street festival. Not bad for a politician!

[h/t]
Have a tip we should know? tips@mediaite.com