Flynn Reportedly Tried to Conceal From WH That He Was Interviewed by FBI Over Russia Contacts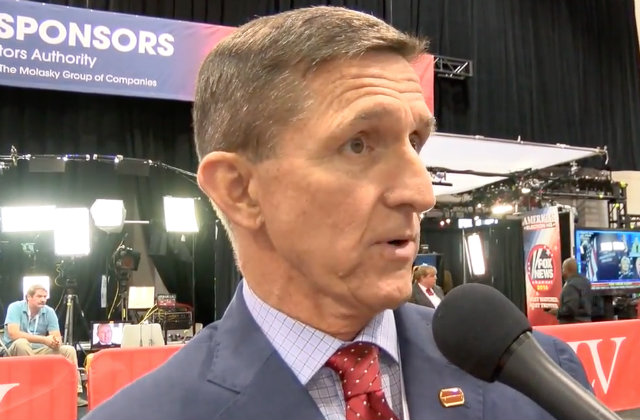 Former National Security Adviser Michael Flynn tried to conceal that he had been interviewed by the FBI over meeting with the Russian ambassador just one day after he was sworn in, according to a new report in NBC News.
From NBC News's Carol Lee:
A year ago today, Donald Trump's newly sworn–in national security adviser, Michael Flynn, met privately in his West Wing office with FBI investigators interested in his communications with Russia's ambassador, without a lawyer or the knowledge of the president and other top White House officials, according to people familiar with the matter.
The White House only found out about Flynn's meeting with FBI agents two days later, after former acting attorney general Sally Yates informed them of the interview. She was soon after fired by Trump.
As Lee reports, that set in motion a staggering series of events: Flynn was fired after just 24 days on the job, FBI Director James Comey was allegedly pressured by Trump into dropping the investigation into Flynn, before Comey was eventually fired by the president. AG Jeff Sessions recused himself from the investigation into the Trump campaign's Russia ties, and a special counsel was appointed to lead the probe.
"The developments ensnared the president in an obstruction of justice inquiry," Lee reports, "which resulted in his top intelligence and law enforcement chiefs cooperating in some form with that probe."
Flynn pleaded guilty to lying to the FBI during his January 24 interview with investigators, and is now cooperating with Robert Mueller's probe.
Read the report here.
[image via screengrab]
—
Follow Aidan McLaughlin (@aidnmclaughlin) on Twitter
Have a tip we should know? tips@mediaite.com
Aidan McLaughlin - Editor in Chief