Michele Bachmann: Giving LGBT People Legal Protection 'Takes It Away' From Straight People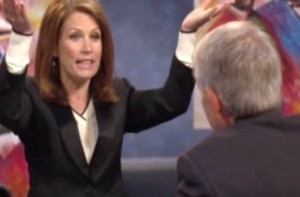 Conservative Republican activist David Barton has recently released a set of 18 DVDs called Foundations of Freedom. As you might expect, each segment is full of Barton's thoughts on "the formation of American law and the judicial system to biblically-based economics, science, government [and how] our Founding Fathers used the Bible as a blueprint for America's freedoms." For most topics, he even brought some friends along to help him out. In particular, his discussion with Michele Bachmann on legislation that penalizes hate crimes against LGBT folks is an interesting one.
In the video, Bachmann tosses the separation of church and state straight out the window and says, "That's what's so brilliant about our form of government and God's form of government, that we are equal before the law. God's says He's not a respecter of persons, He's not partial, so why should we, why should government be partial?"
She goes on to say, "So when you're part of a favored group, then you get special benefits that nobody else gets. That's the very form of tyranny because when government supposedly gives something — government has nothing to give, they have to take it away from other people. So when they give it to that certain group, that means, by definition, they're taking it away from you!"
The "special benefits," of course, are the guarantees of protection and justice to anyone who is unfairly targeted for their sexual orientation.
Watch above and pay special attention to the sheer giddiness with which Barton and Bachmann talk and how they feed off of each other's every word. Their exhilaration reminds me a lot of this video. Don't deny it.
h/t RWW
[image via screengrab]
For more from Lindsey, follow her on Twitter.
Have a tip we should know? tips@mediaite.com