Michele Bachmann Inspires Racy Romance Novel, But Is Still Stranger Than Fiction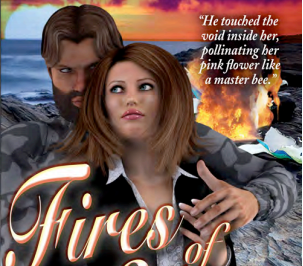 The next Fifty Shades of Grey has an unlikely muse: Minnesota congresswoman and conservative fabulist Michele Bachmann.
Fires of Siberia, a Bachmann-inspired romance novel, tells the tale of a red state presidential candidate who crashes in Siberia during a trip to improve (or invent) her foreign policy credentials, and must make her way back to civilization with the help of a dashing stranger named—wait for it—Steadman Bass.
The novel was written by Tréy Sager, and, arriving in advance of his memoir Oedipus Breast, may be the classier of his forthcoming titles.
New York-based publisher Bandlands Unlimited—whose catalogue, the Atlantic Wire points out, also includes Saddam Hussein's uncollected speeches and interviews with Marcel Duchamp—will release Fires of Siberia as an e-book on June 1. Badlands' founder Paul Chan explicitly celebrates the brave new world of electronic reading: "Historical distinctions between books, files, and artworks are dissolving rapidly," Bandlands' release states. "We publish and produce new works by artists and writers that embody the spirit of this emerging dissolution. We make books in an expanded field."
Expanded, indeed: the cover features a flaming GIF, lest those fires fail to ignite from the prose alone, and the two characters seemed to have gotten the Taiwanese animation treatment.
While the setting and premise promise much adventure, Sager's novel still faces a high bar of imagination: its subject, after all, is so skilled at fiction that the Associated Press gave up fact checking her statements during her 2012 primary run.
[h/t The Atlantic Wire]
—
>> Follow Evan McMurry (@evanmcmurry) on Twitter
Have a tip we should know? tips@mediaite.com