Michelle Malkin Dishes To Mediaite About Her New Social Media Venture, Twitchy
Twitchy is Malkin's brain-child site dedicated to "mining Twitter to bring you 'who said what' in U.S. politics, global news, sports, entertainment, media, and breaking news 24/7."
"I really was looking at the state of Twitter curation and aggregation and in my own work habits and realizing that these tweets are getting disseminated and becoming these ephemeral things. Unless someone is capturing a tweet stream or a tweet debate, it's just going to disappear, unless you're looking at it and being able to impose a narrative on it," Malkin elaborated. "I think over the last couple of months there are more sophisticated attempts at it, like Storyful and Storify."
In her market research, Muckrack had been the best of the Twitter aggregators, but she still felt that even that was far too much of a "firehose" because it was more powered by computer algorithms than by actual human editorial judgment. She also wanted something that more fit into her niche.
"Obviously, because of my political bent and my ideological leanings, this is going to distinguish us from a lot of the other curators who are going to jump into the space," she explains. "I don't have any doubt that we're going to have major competition from big corporate media entities or non-profit funded ones that will have huge pockets. I'm not accepting any outside venture capital, I'm not looking for any. I like being independent, and that's sort of keeping in what I've done in the past."
Twitchy brings together eight staff writers with various beats that will be in charge of providing the lifeblood for the site in the days and months ahead.
"I think having a staff that's predominantly right-leaning will give some value added to what we're doing with the site," Malkin said.
Malkin thought the site's target demographics fit into three areas.
"One is the future (my kids' generation and how they're going to consume news) the second is complete Twitter junkies who love seeing their tweets featured on Twitchy, who are going to buzz about it, who really get the Twitter vibe, who don't have time to be on it all the time and just want to catch up on their lunch break and the third demographic is people who are completely flummoxed and overwhelmed by the whole thing and need sherpas to guide them."
She envisions that as the site grows, it will not be primarily politics-driven.
"I really think the sports and entertainment sites will be the most popular and most trafficked of our sites," Malkin observes.
Already, the site can brag some massive scoops, most notaby Kony 2012, as the staff recounts:
At 3:01 am ET on the morning of our launch, March 7, Twitchy posted this story about the Joseph Kony viral video. Huffpo followed at 9:41 am, Washington Post at 11:49 am, and CNN at 1:03 pm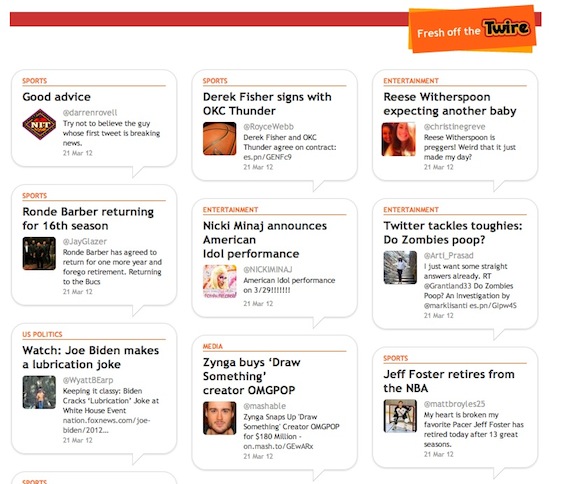 The Twire compiles a grid of various entertaining, offbeat and generally notable tweets from around the Twitterverse.
Only days following the site's launch, Malkin made the bold decision to advertise Twitchy on Rush Limbaugh's website.
"I think it was a good confluence of being a good business decision and also being a good conviction decision for me. Obviously everybody who works for me knows where i'm coming from. I think that is the main thing that distinguishes a personality like me, somebody who has been in opinion journalism and is a completely open book."
"I make no qualms about what my ideological leanings are, I don't pretend that I operate from some fantastical place of neutrality, and I think that's healthy, not only for readers but also for my own staff. And we just happened to launch at a time when Rush Limbaugh was under siege and again, obviously it's a huge boon to a start-up like us to be able to reach his massive audience, and I think his audience is ideal in a way for a segment of a demographic we're trying to reach."
It will be fascinating to see how the site continues to evolve as more people seek out savvy social media curation, but it is already clear that with this ambitious new project and Malkin's undeniable talent for galvanizing her readers, Twitchy is a site to watch in 2012.
Have a tip we should know? [email protected]