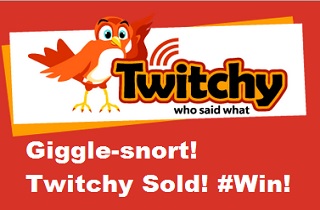 For the better part of two years, it has been the canned laugh track for the right-wing echo chamber, but on Tuesday, the sale of conservative Twitter-centric website Twitchy.com was announced. Conservative pundit Michelle Malkin is selling the site, for an undisclosed sum, to the same company that bought mega-successful Hot Air from her back in 2010. Salem Communications wisely kept Ed Morrissey and co. on after that deal, and the Twitchy team is being left in place as well.
From Buzzfeed:
Jonathan Garthwaite, general manager and editor-in-chief of Townhall.com, confirmed the news to BuzzFeed Tuesday, saying he was "excited" to be folding Twitchy into existing Salem news properties.

"Media Matters types would like to paint conservatives as boring, old white guys," Garthwaite said. "Twitchy adds more fun and humor to our platform, which will appeal to totally different generation and break that stereotype."

Launched in March 2012, Twitchy was the brainchild of conservative author and pundit Michelle Malkin, who until now served as owner and chief executive officer. The site is unique in the conservative media landscape for its native social aim, acting as a "Twitter curator" and timelining social media wars between pundits, politicians and celebrities.

…Garthwaite says Malkin will relinquish the title of CEO, but will still be active in promoting the Twitchy brand. He said the nine Twitchy staff writers, disparately located around the country, will not be asked to relocate to the Townhall news offices in Arlington, Va. Garthwaite would not disclose terms of the deal.
While liberals like to mock Twitchy, the site really was a genius idea, a veritable license to print money with almost no effort. If you can get off a mildly amusing zinger at a left-wing librul lib Democrap, Twitchy will make you famous faster than you can say "embed tweet," and every fight is a conservative win, every liberal tweet a "beclowning." They're an internet magic mirror factory in which every conservative is the prettiest, and the content grows on low-hanging branches in endless orchards. With the exception of the "giggle-snort" and "boom" buttons in their toolbar, Twitchy's content writes itself.
Hot Air kept plugging right along after its Salem deal with no noticeable change in the content, but it will remain to be seen if Twitchy remains free to do that voodoo that they do. Ironically, the last thing they need is any sort of experienced editorial sensibility. The site is successful precisely because almost none of what it produces is actually news, but rather, a loving reflection of its own readers.
Have a tip we should know? [email protected]