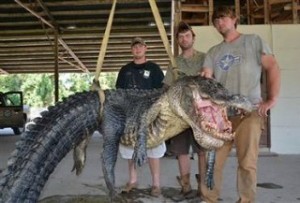 If catching one massive, record size-breaking alligator in a weekend doesn't sound that exciting to you, what about three gigantic gators caught in the span of a few days, two of which broke records? Over Labor Day weekend, three hunting parties caught three separate alligators, two of which were over 700 pounds and set records for captured gators.
The first gator was caught by Michael and Bethany Piper last Friday, and it took them quite a while to catch it.
Around 11:45 p.m. on Friday they hooked it with a fishing pole just south of the I-10 long bridge in Pascagoula…

Michael Piper said they had to ask boaters nearby to help and at 2 a.m. Saturday the 11′ 5 ½" gator was finally shot with a shotgun and pulled into the boat.
The other two alligators were caught separately on Saturday night, and set new records for captured gators. Beth Trammell led a hunting party near Redwood, Mississippi, and she said it also took her crew a long time, four whole hours, to get the gator in the boat. Their gator weighed 723.5 pounds, and held the record for largest alligator caught for about an hour, before another gator took the mantle from them.
Dustin Brockman of Vicksburg, Miss., ventured with his brother and friend into the Mississippi River by motorboat early Saturday night and emerged with a 727-pound record breaker that was 13 feet, 4.5 inches long…

Brockman said that it took two hours after hooking the alligator using a crossbow before they could shoot it with a shotgun. It took four hours more to get it into the boat, but Brockman said it was too heavy to do with just the three of them, so they just waited in the middle of the river for the sun to rise.

"We killed the alligator at 4 a.m.," he said. "We waited until 6:30 (a.m.) before I called three or four more guys to help us load it into the boat."
Below are each of the three gators for comparison.
This is a photo, via WLOX, of the gator captured by the Pipers: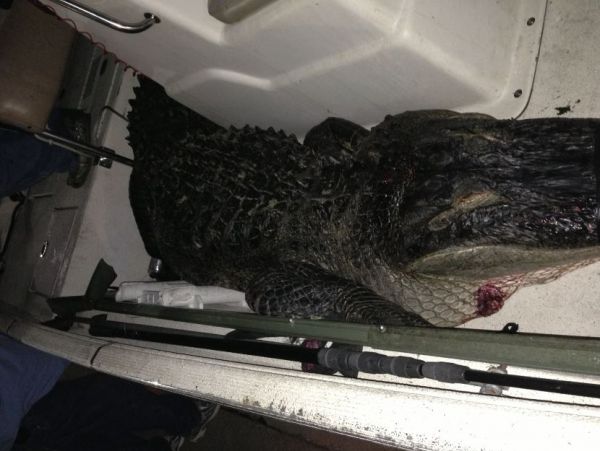 This is a photo of the Trammells' gator, from the Mississippi Department of Wildlife, Fisheries, and Parks: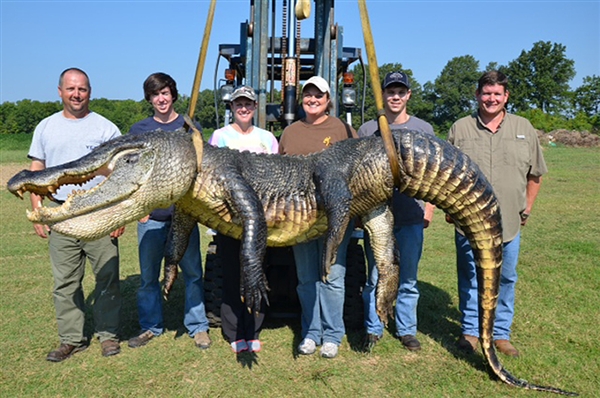 And this is a photo of Bockman's gator, which he posted to his Facebook page: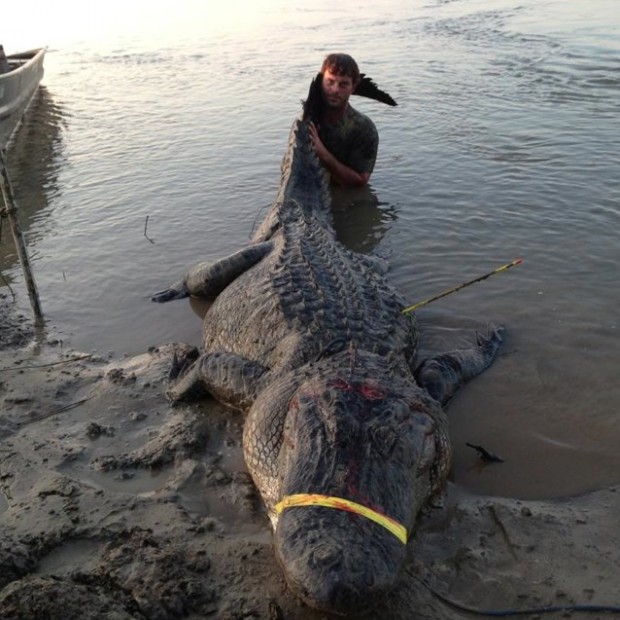 Watch NBC's report on the gator grab below:
[h/t The Blaze]
[photos via Mississippi Department of Wildlife, Fisheries, and Parks; Dustin Bockman; WLOX]
— —
Follow Josh Feldman on Twitter: @feldmaniac
Have a tip we should know? tips@mediaite.com
Josh Feldman - Senior Editor