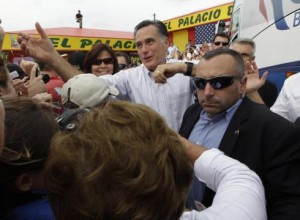 The Associated Press is reporting that Republican presidential candidate Mitt Romney held a political event at a juice shop owned by a convicted cocaine trafficker on Monday night. The juice shop, El Palacio de los Jugos, is owned by Reinaldo Bermudez, who was convicted of conspiracy to distribute cocaine in 1999, and served three years in federal prison. The Romney campaign didn't comment for the story, but the AP reports that the Secret Service knew about Bermudez' conviction:
Bermudez told the Miami New Times that the Secret Service vetted everything about him when the Romney campaign asked to use his fresh fruit and vegetable stand and that they knew about his criminal record.

"Here in Miami there are a lot people with money who have had problems with the law," Bermudez told the New Times. "Thankfully, we all have the opportunity in this country to re-enter society when we've done something wrong."
The AP also reported that Romney was filming a campaign ad at the event, although at this point, it's unclear if that ad will ever see the light of day.
This bit of controversy is sure to launch a thousand cheap jokes, and be used to hurt Romney politically. Given his cold attitude toward at least one drug user who doesn't have a business Romney can exploit for votes, maybe he deserves it, but what Bermudez says is correct. One of the things that makes America great is our promise of redemption, and if Reinaldo Bermudez has turned his life around, he shouldn't be used to tar Mitt Romney. At the same time, while it's unclear whether the Romney campaign really knew about Bermudez' record, they ought to come out and defend their decision, and the man whose venue they used.
However, Romney was campaigning in a state with a history of throwing not just felons, but many non-felons who share a name with a felon, off of the voter rolls, an effort that continues under Republican Governor Rick Scott.
Also complicating things for Romney is the fact that he told Sen. Rick Santorum, during a January debate, that ""I don't think people who have committed violent crimes should be allowed to vote again," to which Santorum responded, "Very interesting you should say that, because in the state of Massachusetts when you were governor, the law was that not only could violent felons vote after they exhausted their sentences, but they could vote while they were on probation and parole, which was a more liberal position that I took when I voted for the bill in congress."
If the Romney campaign ignored Bermudez' record on principle, they ought to say so, and be commended for it, and perhaps make up their minds when it comes to translating that principle into policy. If they just overlooked it, then it would be fair for observers to chalk this up as another example of a campaign that doesn't have its act together.
Here's a local report on Romney's visit, in which the anchor employs an unfortunate paraphrase of the candidate, saying he thinks the economy "needs a fix":
Follow Tommy Christopher (@TommyXtopher) on Twitter.
Have a tip we should know? tips@mediaite.com