'Mnuchin is a Moocher': Twitter Slams Treasury Sec For Requesting Military Plane On Honeymoon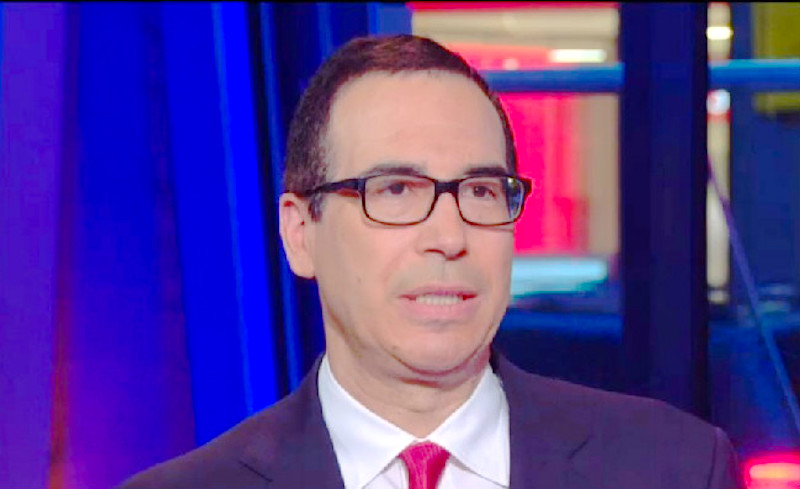 ABC News reported Wednesday night that Treasury Secretary Steven Mnuchin had requested government jet to take him and his newlywed wife on their honeymoon earlier this summer.
Mnunchin allegedly asked for a  U.S. Air Force jet, which according to an Air Force spokesman costs about $25,000 per hour to operate, to take him and his bride, Louise Linton, to their multi-destination honeymoon, which included Scotland, France, and Italy.
This has sparked an inquiry — according to ABC — from the Treasury Department's Inspector General.
It also sparked quite a reaction from Twitter.
Wow. Mnuchin asked for a government jet for his honeymoon. https://t.co/7CCnPAOtP1

— Jake Sherman (@JakeSherman) September 13, 2017
Mnuchin is worth $300 million
He wanted taxpayers who work hard for their money to pay for his honeymoon. https://t.co/s4zoJNkm2R

— Tim Miller (@Timodc) September 13, 2017
The Fort Knox trip wasn't the only time… https://t.co/m8j9ZWiiYN

— Maggie Haberman (@maggieNYT) September 13, 2017
Strong MAGAing here. https://t.co/NNo6R2r5fv

— Gavin Newsom (@GavinNewsom) September 13, 2017
At this rate Louise Linton might want to check & make sure the ring Steve Mnuchin gave her is actually a real diamond

— Adam Blickstein (@AdamBlickstein) September 14, 2017
Feel the Bern. https://t.co/rj25xM7yK7

— Sean Davis (@seanmdav) September 13, 2017
#indictmentscoming #indictmentscoming #indictmentscoming #indictmentscoming #indictmentscoming #indictmentscoming #indictmentscoming #MAGA

— Julie Silver (@JulieAnnSilver) September 13, 2017
Mnuchin is a moocher

AKA: people who lecture us about the prohibitive cost of social programs believe they're entitled to a $25k/hour jet https://t.co/aIvtEu2zYY

— igorvolsky (@igorvolsky) September 13, 2017
Repulsive: Mnuchin and his wife are basically using taxpayer dollars as a charge card for their lavish lifestyle. https://t.co/6UB4TAV83U

— Matt McDermott (@mattmfm) September 13, 2017
Mnuchin made bazillions foreclosing on people. His wife grew up in a castle And STILL they want to fleece taxpayers https://t.co/YoYoUzpiYH

— Clara Jeffery (@ClaraJeffery) September 13, 2017
?GRIFTER?

Billionaire Treasury Sec Mnuchin requested military jet for honeymoon??taxpayer cost of $25k per HOUR‼️https://t.co/3ANw52lzbb

— Dr. Dena Grayson (@DrDenaGrayson) September 14, 2017
Holy smokes, what grifters. https://t.co/mDEl5pSeJe

— Chris Hayes (@chrislhayes) September 13, 2017
Devoted public servant Mnuchin requested $25K/hr Air Force jet for Europe honeymoon?
https://t.co/lnltOcBmi5 pic.twitter.com/lAYdXXMVgh

— Boing Boing (@BoingBoing) September 14, 2017
FFS.

Treasury Secretary requested government jet for European honeymoon https://t.co/a8PT0rJXSD

— Kai Ryssdal (@kairyssdal) September 13, 2017
Jet can cost as much as $25k per hour.
Mnuchin has estimated net worth of $300 million. https://t.co/akyGzNYKiV

— Shawn Reynolds (@ShawnWTVM9) September 14, 2017
Dear Treasury Secretary @stevenmnuchin1: Treasury is not your slush fund & Air Force is not your fleet. I can't believe I had to write that. https://t.co/qcWP0SUD5w

— Ted Lieu (@tedlieu) September 13, 2017
Have a tip we should know? tips@mediaite.com