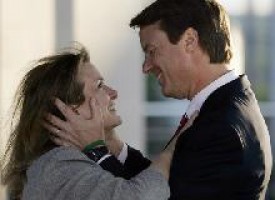 It's with some trepidation that I continue to report on the sick, sad, can't-make-this-up story surrounding John Edwards. I never liked the guy, he's no longer a public figure, he'll never be a public figure, and all of this ugliness occurred when he was a private citizen, albeit one running for the most powerful position in the world. Nevertheless, I know I'm not the only one who can't look away from this story. So here's what's breaking in our Tar Heel Soap Opera:
First—while this is not strictly new—my #1 mega-crush Mindy Kaling pointed out late on Wednesday night, Rielle Hunter (born Lisa Jo Druck, aka Lisa Hunter, Lisa Jo Hunter, and Rielle Jaya James Druck) is a truly crazy figure, worthy of your campiest beach novel or Lifetime movie. The wonderful helper elves at Wikipedia have aggregated a well-sourced, compelling article summarizing her full story.
Also, the New York Times today published an excerpt from former Edwards aide and claimed Hunter baby daddy Andrew Young's new book The Politician. The excerpt teases with three introductory grafs about the affair. Rielle and John kissed openly in front of certain staffers. Also, John hid behind the loathsome politico/attorney practice of never directly corroborating Rielle's words, as if she were wearing a wire. When she would tell him that she loved him, he would say, "Me too." "Do you miss me?" would be countered with "That's correct." What he hoped to achieve by all these circumlocutions is beyond me. Finally, he claims that Elizabeth knew of the affair for quite a while, having heard Rielle express her love over a cell phone, but delayed confronting John about it.
But that's just the first three paragraphs of the excerpt. The rest is devoted to what Game Change describes as Young's main role for the Edwardses, a glorified gofer. Young goes all Procopius on Elizabeth's Empress Theodora, except about Christmas Trees and Playstation 3s and scathing late-night emails instead of, er, bizarre sexual performances. So most of the excerpt is more gripe-y and boring, though it reminds us that the Edwards staff did not admire Elizabeth's interpersonal skills.
Last but certainly not least, ABC News is reporting that Rielle Hunter has more or less confirmed the existence of the rumored sex tape of her and Edwards. (Please, don't spit up onto your keyboard. Take some deep breaths. Drink some ginger ale or chamomile tea.) Hunter has filed a temporary restraining order against the release of "a personal video recording that depicted matters of a very private and personal nature" that is in Young's possession. "20/20" will be reporting more on this tonight.
P. S. The rest of the Game Change Cliffs Notes that you've been waiting for since the first installment will be along shortly. Thanks for your patience.
Have a tip we should know? tips@mediaite.com