The hysteria over the non-relationship between President Trump and Russian President Vladamir Putin is getting out of control.
Unable to accept the fact that Donald Trump defeated Hillary Clinton in the 2016 election, the media has become completely unhinged over the alleged ties between the President and his Russian counterpart.
President Obama mocked Republican presidential candidate Mitt Romney for calling Russia a primary threat to the United States during a debate in 2012. Obama would later promise then Russian President Medvedev that he would "have more flexibility following his re-election that same year.
But after it was recently revealed that Donald Trump spoke with Putin for a second time at a crowded dinner during the G20 Summit, MSNBC is now asking, "Is the GOP evolving into the party of Putin?"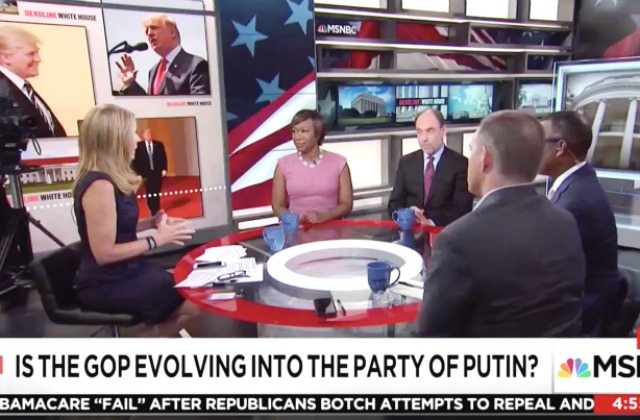 MSNBC's Joy Reid told host Nicolle Wallace on Wednesday that it has actually been the Democrats that have been tough on Putin and the Russians.
"President Obama may have started out wanting a reset or wanting more flexibility but he certainly ended with some pretty tough sanctions and punishment for meddling," she said, adding that it's becoming "Putin-ite, pro-Putin."
Wallace added that in addition to the President, there are "loud voices in conservative media… who praise just the brute strength of Putin."
Reid went on to speculate what the attraction could be for Republicans regarding Putin and the answer was the same as it always is – racism.
"That's right, and for a lot of reasons, the alt-right for these sort of weird sort of white nationalist reasons, they feel he is advancing white Christianity," said Reid.
Adding to the bizarre narrative that the Republican Party is somehow a friend to Russia and the former Soviet Union, Susan Glasser added, "Even reflexive, anti-Russian, anti-Soviet views inside the Republican party were not a fixed principle of the Republican party."
A few days ago, The New York Times' Jeremy Peters said that Republicans have "had a Putin crush for a while now."
Why are so many conservatives so willing to exculpate Trump on Russia? They've had a Putin crush for a while now. https://t.co/9IwrA8qr1y

— Jeremy W. Peters (@jwpetersNYT) July 14, 2017
Pollster Kristen Soltis Anderson was quick to remind Peters that this was not exactly accurate and provided data on how members of both parties felt about the Russian President just two years ago.
"Crush on Putin for a while now" isn't correct. Silly framing, debunked by data. In 2015 Dems were +3 more pos on Putin than GOP. pic.twitter.com/hzv4ggF9Iw

— Kristen S Anderson (@KSoltisAnderson) July 14, 2017
The Republicans have never been considered the party of Communism, until now. One can only assume that the GOP's reluctance to join the Democrats in their hysteria over alleged Russian collusion means that they are now apparently the "party of Putin."
Watch above, via MSNBC.
[image via screengrab]
This is an opinion piece. The views expressed in this article are those of just the author.