MSNBC's Kerry Sanders Addresses Michelle Fields Shake-Up in Segment on Trump Rally Violence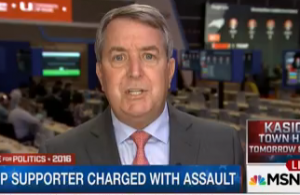 Today, after stating that the Council on Islamic American Relations is calling on Donald Trump to apologize for what they perceive to be Islamophobic rhetoric that has triggered a spike in hate crimes against Muslims, MSNBC's Kerry Sanders made note of the fact that the violence associated with Trump's campaign extends beyond his speech.
In his rallies, in particular, violence is very common. Reporters are choke-slammed. Protesters are heckled, harassed, and humiliated. The perpetrators of the violence are often not repentant. They brag on social media and on camera.
Sanders paid careful attention to the assault of a protester by another rally-goer last night. Rakeem Jones was sucker punched as he was being escorted from the event by a man who was later charged with assault. At first, though, Jones was the one detained while the other man was free to enjoy the rest of the rally.
"We're beginning to see people acting out in a way that is sort of like, as I said, turning the page."
Sanders then broke the streak of cable news personalities who have been delicately avoiding bringing up the alleged assault of Breitbart reporter Michelle Fields by Trump's campaign manager, Corey Lewandowski. The story has been blowing up all day as other pundits like S.E. Cupp call for something to be done and Lewandowski brushes off the allegations by calling Fields an attention seeker.
When contacted, Trump spokesperson Hope Hicks simply said that the campaign has nothing to do with the violence that takes place.
"There's clearly a tenor that is surrounding, right now, the Donald Trump campaign," he said. "It's a tenor of what's developing around the Donald Trump campaign. All of this as they're getting ready to go into a debate tonight where Donald Trump had indicated to his campaign that this was going to be a little bit quieter, a little bit calmer, maybe a little bit more presidential approach from the man who is seeking the Republican nomination."
[image via screengrab]
For more from Lindsey, follow her on Twitter.
Have a tip we should know? tips@mediaite.com