Must Reads: Greenwald's New Publication Launches as U.S. Weighs Drone Strike Against Citizen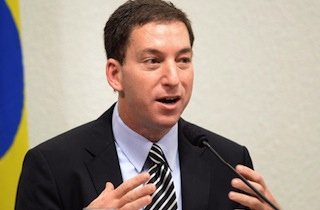 Every a.m., Mediaite publishes a primer of what the interweb machine is writing, talking, tweeting, and blogging about, so that you may fool friends and family into thinking you are a trove of information and insight. Today: The Intercept, an NSA-focused digital magazine by the still-nascent Greenwald/Poitras/Scahill group, launches, just as the AP breaks the story that the U.S. is pondering, in semi-public, whether to kill an American citizen in a drone strike.

"Welcome to The Intercept" (Glenn Greenwald, Laura Poitras and Jeremy Scahill, The Intercept)
It's here, and it's called The Intercept: the first publication from Pierre Omidyar's new $250 million media venture, First Look. (More details on the venture itself here.) The Intercept, run by Glenn Greenwald, Laura Poitras, and Jeremy Scahill, will focus mainly on NSA-related, Snowden-based stories up front, with a longer term goal of investigative journalism on issues ranging from the judicial system to political corruption. Read the introductory statement here.
"The NSA's Secret Role in the U.S. Assassination Program" (Glenn Greenwald and Jeremy Scahill, The Intercept)
Scahill and Greenwald's first piece involves the role the NSA plays in targeting drone suspects, with some—spoiler alert—innocent casualties. Speaking of which…
"U.S. Suspect Possibly Targeted for Drone Attack" (Kimberly Dozier, Associated Press)
The lede kinda says it all:
An American citizen who is a member of al-Qaida is actively planning attacks against Americans overseas, U.S. officials say, and the Obama administration is wrestling with whether to kill him with a drone strike and how to do so legally under its new stricter targeting policy issued last year.
"Welcome to Glenn Greenwald, Inc.?" (Lloyd Grove, The Daily Beast)
For an alternative perspective: "The question is: how much top-flight talent can they recruit if Greenwald remains the organization's apparent front man?"
"Local Papers Shine Light in Society's Dark Corners" (David Carr, New York Times)
"Traffic coverage may be the lowest species in the dog-bites-man pantheon of news, except when it is not," Carr writes, going on to frame The Record's and the Star-Ledger's reporting on the Bridgegate scandal as indicative of the crucial local journalism disappearing from newsrooms across the country. Who knows, Carr intimates, what Bridgegate-level stories never were found out because the reporters who might have broken them were laid off?
[Image via Guardian]
——
>> Follow Evan McMurry (@evanmcmurry) on Twitter
Have a tip we should know? tips@mediaite.com