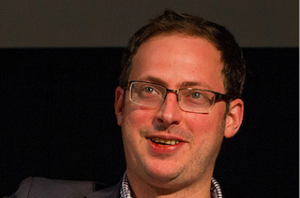 During an online chat with readers at Deadspin.com Monday, Nate Silver revealed why he chose to sell his 538 brand, along with the URL fivethirtyeight.com, to ESPN, rather than just set up a licensing deal like he did with The New York Times. Silver said ESPN was "firm" about acquiring the brand and URL and he was willing to oblige given the resources they promised to put behind it.
"When we were negotiating with ESPN, they said 'yes' to an awful lot of things, in terms of our vision for the site. But the one thing they were firm about is that they had to buy the 538 brand name and the URL. The basic reason is that they're going to be investing lots of additional resources into 538, and no well-run business is going to be willing to do that and then have the brand yanked away from them at the end of the contract.

So it was a question of either keeping 538 as is (essentially a 2-3 person operation) and perhaps keeping the trade name — or doing something bigger and bolder and more entrepreneurial, but also selling the 538 name as part of the package. We decided to go big, and our conversations with ESPN convinced us that they were the right partner to go with."
Silver also addressed claims made by New York Times public editor Margaret Sullivan that he was "disruptive" to the paper's "culture."
"ESPN, like the NYT, is a huge news organization. There are always going to be products targeted to different types of consumers. The question is how harmoniously they can co-exist, and I think ESPN executes that very successfully. Our little 538 corner is going to have a lot of editorial freedom and a lot of 'voice', but the other people I've met so far at ESPN and Grantland so far have also been a pleasure to work with."
Answering a follow-up question, Silver said he doesn't think the culture conflict "had that much to do with the NYT in particular, or the decision to leave."
Silver managed to get in a dig at political pundits, one of favorite targets, and The New York Times' Mark Leibovich in particular, while also giving sports commentators a bit of a pass.
"Obviously, there are SOME sports pundits who are total hacks. But I'd argue that MOST political pundits are completely useless; the outliers are the few who are actually worth reading. Plus the political pundits take themselves very seriously — read the new Mark Leibovich book — whereas I think on some level someone like Jay Mariotti realizes that he's just trolling people."
More at Deadspin.com.
—
>> Follow Matt Wilstein (@TheMattWilstein) on Twitter
Have a tip we should know? tips@mediaite.com