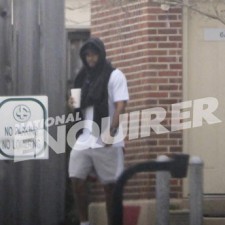 After a few weeks of relative calm, it seemed that Tiger Woods had finally resurfaced in a sex addiction clinic in small town Mississippi, as evidenced by some super blurry (are there any other kind?) National Enquirer photos that showed the fallen star, under hat and hoodie. Now, online gossip site X17 is decrying the pics as fake with proof in the form of look-a-like photos. The Enquirer, meanwhile, is claiming cover-up.
It's funny, and maybe fruitless, to watch the gossip world argue about authenticity, verification and the like, but this story is too bizarre to ignore. Above is the Enquirer's first photo exclusive, which they claim is Tiger. Below is the X17 capture of the man they say is being mistaken for Woods: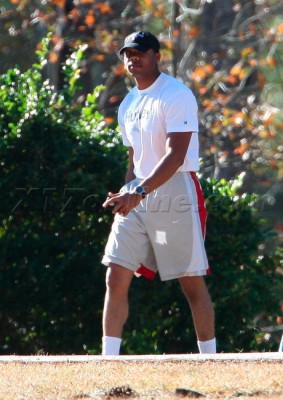 But the Enquirer has an explanation — or conspiracy theory — but they make a pretty good point about the guy wearing the same clothes two different days. Via Deadspin:
Tiger's stand-in was paraded in front of a swarm of photographers and he was wearing EXACTLY the same clothing as the real Tiger when we photographed him days ago.

We're pretty sure the clinic makes them change their clothes.

Would-be Tiger clearly has a different build, is taller, lighter skinned and has a rounder face.

The Tiger imposter wears his socks much higher than Real Tiger, who wears only ankle socks, not only in The Enquirer photo but on a regular basis.

Magnification of the photos also shows the two men have distinctly different noses, to the point where any comparison is a joke.

Fake Tiger also has much longer arms, is stockier than Real Tiger who, while muscular, is far more lean.

Fake Tiger is clean shaven, which could simply be explained by saying Tiger shaved. What can't be explained however, is that Tiger seems to have faded in just a matter of days. Fake Tiger's skin is much lighter than Real Tiger.

Fake Tiger's legs are also much hairier than Real Tiger.

Fake Tiger is even outfitted with Stanford baseball cap (Real Tiger went to Stanford).
What say you, critical audience: Tiger or Fake Tiger?
Have a tip we should know? [email protected]