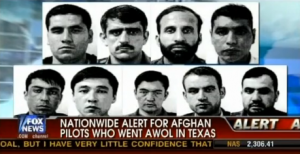 A few hours ago, FoxNews.com published an exclusive report on a nationwide Navy bulletin. The bulletin stated that 17 Afghan soldiers who had been attending training for pilots here in America all went AWOL from an Air Force base in Texas over the course of the past two years. The original bulletin claimed that 10 of them have been located (one of whom has even gone through the process of becoming a legal American citizen) but Fox News has reported that different Air Force spokesmen have given conflicting statements on how many are still at large. They and the Homeland Security's Immigration and Customs Enforcement agency all stress, though, that none of the men are thought to be involved in terrorism. These claims haven't satisfied everyone as there are quite a few questions still unanswered.
Here is the statement from ICE:
"A routine bulletin was created to inform the US law enforcement community about 17 Afghan soldiers who've deserted in recent years while attending language training at the Defense Language Institute in Texas. There's no information that any of these individuals pose a national threat. Previous indications are that such foreign military deserters do this solely for the prospect of a better life. This type of bulletin serves to identify foreign military deserters, request available leads, and enable ICE to take appropriate enforcement action."
Still, though, there's possibility that this situation is much worse than ICE is making it seem. The soldiers supposedly had high-security level military access and were apparently never even put on the No Fly list.
After the initial FoxNews.com story, Fox News National Security Analyst KT McFarland wrote a great piece on the many unanswered questions that remain. Here are a few:
1. Why are we just hearing about this situation now, when some of the people on the list have been missing for 2 years? And when the most recent person to go missing was 6 months ago. Has something changed? What's happened to make us — all of a sudden — become more alert?

2. Was there a previous notice about this missing men? The Be-on-the-Lookout (BOLO) notice released on Wednesday was given a wide distribution — it was was distributed to local and federal law enforcement officials and joint terrorism task force members across the country. Was there previous military to military notification that went out earlier this year through military security?

3. Here's a simple but important question: Are these guys all on the no-fly list? They better be! But if they're are not, why not?

4. Has there been an explanation about why all 17 of these men appear on the list, especially if 7 of them have already been accounted for?
You can read the rest of McFarland's piece here and view the Fox News televised report below.
Have a tip we should know? tips@mediaite.com