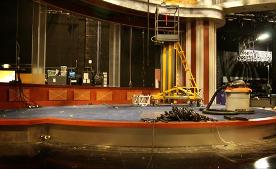 Conan O'Brien isn't just disappearing from the walls of 30 Rock – he's disappearing from the web too. NBC.com and Hulu.com have worked to make it look like The Tonight Show with Conan O'Brien never existed.
Also, images from the deconstruction of the Tonight Show set sure to depress Team Conan.
Peter Kafka of AllThingsD writes about the online scrubbing:
Perhaps NBC wishes you didn't. The GE (GE) unit has removed every episode of the show's seven-month run from its NBC.com site, as well as Hulu, the site NBC owns with News Corp.'s (NWS) Fox and Disney's (DIS) ABC.

A little odd, given that a couple of days ago, the network was offering every single "Tonight Show" episode O'Brien had taped on NBC.com. But then again, everything about this story has been odd. NBC declined to comment.
So not only can you find no Tonight Show episodes or clips anywhere, but if you search for "Conan O'Brien" on NBC.com, you'll laughingly find absolutely ZERO results. Not so at Hulu – although the Tonight Show section is gone, Conan is featured in other, non-NBC shows. One of the first results (video below) is G4's report from a Conan rally in January, in addition to interviews with Charlie Rose and James Lipton.
While Conan is disappearing from the web, his expensive former studio is physically disappearing. Aaron Bleyaert, a former Conan employee who wrote the NBC.com blog, documented the destruction on his personal Tumblr (via Gawker).
Meanwhile, there are just two more episodes of The Jay Leno Show, which goes off the air Tuesday. Ashton Kutcher apparently is the series finale guest. Tune in, because this is history, people.
Here's Attack of the Show visiting a Conan rally, via Hulu:


—–
» Follow Steve Krakauer on Twitter
Have a tip we should know? tips@mediaite.com