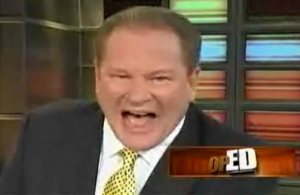 After a summer dominated by "Death Panels" and Glenn Beck wackiness, it appears that the left is striking back. On the heels of Greenpeace's news-making protest stunt, MSNBC host Ed Schultz has spun a gem of a sound bite for the right to chew on. Last night on The Ed Show, he warned viewers that Republicans "want to see you dead! They'd rather make money off your dead corpse!"

My first question for Ed is "What other kind of corpse is there?"
Here's the clip:

Politico reports that a spokesman for the National Republican Congressional Committee thinks Ed should apologize, and that House Speaker Nancy Pelosi should denounce the utterances due to their potential to incite.
Schultz definitely crossed the line, and should apologize. While the media will undoubtedly throw out scores of Republicans touting "death panels," racist Obamas, and euthanized grannies, that doesn't make it right, and it undercuts the left's ability to call that stuff out.
On the other hand, the NRCC doesn't get to play cute and demand anything until they accept Pelosi's premise retroactively, and clean up their own sandbox.
For some, it may be a welcome change to see a liberal get so fired up. The left has long lacked the kind of Barnum-esque figure that the right seems to have in abundance, and which has allowed them to dominate the radio and TV air.
Will this make Ed the Glenn Beck or Rush Limbaugh of the left? Not likely. If he doubles down tonight, and the Democrats say, "Well, he's kinda got a point," maybe he has a fighting chance, but I see apologies in Ed's future.
MSNBC, Speaker Pelosi, and the NRCC have all been contacted by Mediaite, and have yet to comment on this article.
Have a tip we should know? tips@mediaite.com