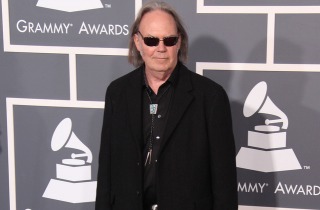 Neil Young finally sat down with Howard Stern for an extensive interview that touched upon the legendary musician's thoughts on President Barack Obama and how he's handled Young's primary environmental causes.
Aside from politics, the pair discussed some rather personal details of the ongoing feud between Young and his long-time musical partner David Crosby. Young declared that he will never perform with Crosby, Stills, Nash, and Young ever again, and that he doesn't care much for Crosby's criticisms of his new Pono music device or of his own personal life decisions.
But when it came to politics, Young made it quite clear he is disappointed in the environmental policies of the Obama administration. "Our leaders are doing a bang-up job," he snarked when discussing whether policies have shifted in a direction he'd find favorable.
"Obama just opened up the Gulf of Mexico to fracking for all the oil companies," he said. "I don't see the prescience in that."
Stern and Young both noted that the president campaigned with an environmental theme back in 2008.
"Isn't that what Barack Obama said? 'Change and hope' and all that?" Young recalled. "And they're fracking in the Gulf of Mexico. Hello, Barack! Wake up, buddy!"
Young insisted that among powerful world leaders, Obama has failed to take a stronger stance in favor of alternative energy sources. "If the United States of America is the leader of the free world, why is it that we are saying that we can maybe have two percent solar energy by 2020 and Germany has 50 percent renewable energy right now with the same sun and the same crops?" he asked.
When pressed by Stern on why such policies haven't come to the United States, Young replied: "It's because of corporate control of democracy through things like the Citizens United act… In America, it's hard to make a change against the corporate powers that are in control."
Asked whether there are any politicians he admires, Young suggested they're all "tainted," even the Democrats who are "supposed to be the saviors if you don't like Republicans." He cited former Sec. of State Hillary Clinton, as an example, for her efforts in encouraging smaller European countries to embrace fracking rather than purchase Russian oil.
Young added that our current political system doesn't empower politicians "to do anything but take money from the corporations and be controlled."
The 68-year-old rocker's new album, Storytone, will be released on Nov. 3, and features Young backed by a 90-piece orchestra. The album's first single, "Who's Gonna Stand Up," echoes the exact sentiments expressed in the Stern interview.
Listen to the full interview below (the above discussion starts around 44:00):
[Image via Shutterstock.com]
— —
>> Follow Andrew Kirell (@AndrewKirell) on Twitter
Have a tip we should know? tips@mediaite.com