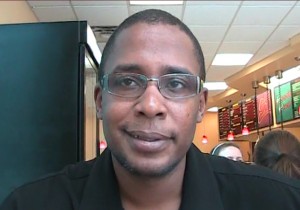 In an interview with Mediaite in early July, New Black Panther Party Chairman Malik Zulu Shabazz announced his intention to organize a protest of Glenn Beck's "Restoring Honor" rally, scheduled for this Saturday. A few days later, Shabazz told me that he would consider whether or not to protest Beck, after consulting with other leaders.
Now, Shabazz has confirmed to Mediaite that neither he, nor the New Black Panther Party, will be at Beck's rally tomorrow.
Shabazz declined to elaborate, but given his prior statements, it is likely that the group decided to follow the lead of other Beck critics, who have chosen to focus their energies on their own projects, rather than counter-protest Beck.
Al Sharpton's National Action Network will hold a "Reclaim the Dream Rally and March" tomorrow that will be attended by Martin Luther King III, NAACP President Ben Jealous, and liberal MSNBC host Ed Schultz.
For those with a taste for a more direct rebuke of Beck's rally, Celebrate the Dream might be the ticket:
On the 47th anniversary of King's historic proclamation, far-right fearmonger Glenn Beck will hold a self-serving press event on the steps of the Lincoln Memorial. He's trying to co-opt King's Dream, with a Nightmare message to his throng of followers.

Don't let this buffoon diminish a day that belongs to all Americans. Join us to Celebrate the Dream and Reject the Nightmare.
The group plans to unveil a 4-story sculpture memorializing King's speech, followed by a press conference on the national mall.
Critics of Beck's rally point to his infamous reference to Barack Obama as a "racist," and general opposition to some of what Martin Luther King stood for as evidence that Beck is particularly ill-suited to stand in King's shadow on the 47th anniversary of the "I have a dream" speech.
You can add to that the fact that Beck didn't even know the significance of the date when he planned the rally (and still erroneously refers to it as "MLK Day"), and that the marquee speaker, Sarah Palin, has gone out of her way to defend disgraced n-word-spouter Dr. Laura Schlessinger.
Beck has insisted that his rally will not be political, even urging attendees not to bring signs, but even granting his premise that opponents of his rally are somehow opposed to "honor," it's reasonable to assume that even fans of honor might find this lineup somewhat lacking.
Have a tip we should know? tips@mediaite.com