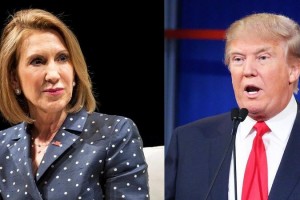 As we wake up still north of 400 days before Election Day, Donald Trump remains the Republican frontrunner. A once-huge lead, however, is now down to single digits in a CNN poll released Sunday morning. Charles Lane of The Washington Post–as down-the-middle-vanilla-pundit as one gets (that's a compliment)–described it correctly on Fox News Sunday with Chris Wallace earlier (paraphrasing): The fascination with Donald Trump is starting to fade.
And that isn't the kind of opinion without merit we hear so often on political roundtables. Instead, there's actual numbers and trends behind it. The facts are clear: Trump is down six points overall in the past month. Ben Carson is down five. One-time frontrunner and one-trick pony Scott Walker is below one percent. The outsiders–two of the three on the GOP side, anyway–are being exposed for the obvious: Not having much to offer in terms of substance, particularly Trump…who speaks in so many 30,000-foot, overarching themes, that CNN actually cut away from a recent foreign policy speech in San Diego because nothing in terms of specifics was being offered.
This move by the network is significant when considering this stat unearthed by Zignal Labs, a California-based firm that monitors social, online and traditional media: From June 16 (when he jumped into the race) through September 14, Trump has been the subject of at least 2,159 CNN reports. When breaking that down into a context easy to absorb, that equals one per hour…for 24 hours…for 90 straight days. Note: When even CNN shows its getting tired of the Trump show, that's a big sign.
So Trump and Carson are starting to fall (the latter of whom made an utterly ridiculous remark about Muslims need not applying for the job of U.S. President Sunday morning on Meet the Press). So who benefits? The dominant winner of the only two debates held by both parties thus far: Carly Fiorina.
Whether it was the kiddie table debate in August, the marathon debate at the Reagan Library last week or any of the dozens of major interviews she's given across the media spectrum, no candidate has shown to be better prepared, more articulate or impressive than the 61-year-old Fiorina (second place goes to Bernie Sanders). And the polls finally show it: CNN now has her in second place behind Trump nationally (24/15, a 12-point rise for Fiorina). Another flash poll out of New Hampshire has her now leading Trump by 4. While all of this is happening, Marco Rubio has risen eight points to 4th, which is significant because of who he's now leading (the Ancestry.com-challenged Jeb Bush).
So is steak finally winning the war against sizzle? The trend appears to be going in that direction. Rubio has been steady and solid, and he possesses a newfound gravitas and command that had been questioned in this space in the past. And in the end when the dust settles, ask almost any Democratic Party member who they'd rather face in a general election: Trump/Carson? Or any combination of Fiorina/Rubio/Kasich?
The fall of Trump has been predicted hundreds of times across the political pundit class, including here. But it appears to be a very real thing happening this time. And it's not because of a single gaffe or moment, but because–finally–the more serious and substantive candidates are outshining those who speak in overarching themes with little in the way of specifics.
But if the CNN debate and the reality TV food fight it sought to create (not Jake Tapper's finest moment given what little attention he gave to big issues such as the economy and jobs) are any indication, substance won't be taking a front-seat tomorrow in coverage tomorrow or next week. But hopefully–as Carly showed last week and Bernie consistently illustrates as well–making strong arguments without the fluff can be compelling stuff, too.
— —
Follow Joe Concha on Twitter @JoeConchaTV
Have a tip we should know? [email protected]