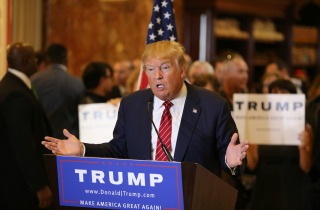 It appears that Donald Trump has yet to hit a ceiling of support among Republican primary voters, according to a new poll released Monday.
Trump remains the dominant frontrunner on the GOP side, garnering support from 25 percent of Republican primary voters nationwide, his highest level of support this entire election cycle.
The NBC News/Wall Street Journal poll found that retired neurosurgeon Ben Carson is close behind Trump in second place with 22 percent. Both totals are up from last month, when 21 percent backed Trump and 20 percent said they support Carson.
Sen. Marco Rubio (R-FL) is in third place, but far behind Trump and Carson, with 13 percent. Sen. Ted Cruz (R-TX), former Florida Gov. Jeb Bush, former Hewlett-Packard CEO Carly Fiorina, former Arkansas Gov. Mike Huckabee, Ohio Gov. John Kasich, Sen. Rand Paul (R-KY), and New Jersey Gov. Chris Christie round out the top 10.
Trump's overall numbers have improved in recent months. Fifty-nine percent of Republican primary voters say they can envision themselves supporting Trump. That number is up from 47 percent in September. Perhaps even more revealing is that fewer Republicans can see themselves supporting Bush — 51 percent — than Trump. Carson leads the GOP hopefuls with 74 percent saying they can support him.
Among those voters who identify as very conservative, Carson leads with 28 percent, and Trump is in first place with voters who say they are moderate or liberal, listen to talk radio, and identify as members of the Tea Party movement.
Fiorina, who enjoyed a surge in the polls following strong debate performances in August and September, is down from 11 percent last month to 7 percent this month.
The poll of 400 Republican primary voters, conducted Oct. 15 to 18, has a margin of error of plus or minus 4.9 percent.
[Image via Shutterstock]
— —
>>Follow Andrew Desiderio (@desiderioDC) on Twitter
Have a tip we should know? tips@mediaite.com