New Two-Level Terror Alert System Will Make Widespread Panic Less Nuanced, Colorful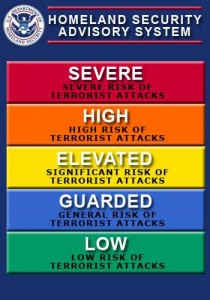 Gone is the terror alert chart presenting a rainbow of colorful options for determining how alternately nervous and annoyed one should get at airports. In lieu of the older system – in place since the terror attacks on September 11 – the Department of Homeland Security is introducing a simpler, two-level alert system, which it will announce in New York City's Grand Central Station and put into effect next week.
So it's out with "orange," in with "elevated" or "imminent." Here's how the Department is describing the new levels:
Elevated: Warns of a credible terrorist threat against the United States

Imminent: Warns of a credible, specific, and impending terrorist threat against the United States.
The alerts will also be sent to law enforcement officials or specific, affected areas when applicable:
These alerts will include a clear statement that there is an imminent threat or elevated threat. Using available information, the alerts will provide a concise summary of the potential threat, information about actions being taken to ensure public safety, and recommended steps that individuals, communities, businesses and governments can take to help prevent, mitigate or respond to the threat.

The NTAS Alerts will be based on the nature of the threat: in some cases, alerts will be sent directly to law enforcement or affected areas of the private sector, while in others, alerts will be issued more broadly to the American people through both official and media channels.
In addition to being issued through television and the Department's homepage, the alerts will also be available through email (for those who sign up) as well as through Facebook and Twitter.
h/t USA Today
Have a tip we should know? tips@mediaite.com