New York Times Invents Stephen Colbert-Hummus 'Controversy' to Support Boycott of Israel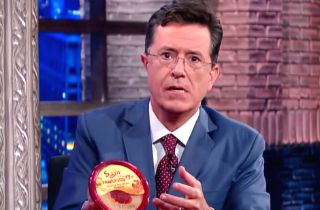 Not surprisingly, Stephen Colbert's debut this week as the host of CBS' The Late Show was a massive media event with most, but not all, of the reviews positive. The colossal coverage hardly surprising for a new, high-profile gig led by a talented comedian who has become a household name playing a character on The Colbert Report. Now, seeing the real Colbert sitting behind the desk, speaking in his own voice with his own thoughts, is newsworthy in and of itself.
While most of the coverage focused on his interviews and gags, a few trade and non-trade publications covered an amusing marketing plug he included for a brand of hummus. Near the top of his premiere show, Colbert unveiled what he called an "ancient, cursed amulet" which, as part of his deal to host the show, he agreed to obey. A deal with a devil, he jokingly claimed, which demanded of him "certain regrettable compromises."
The first of such compromises? "Ladies and gentleman, the amulet commands me to inform you of the delicious taste of tonight's sponsor, Sabra Red Pepper hummus, made from simple fresh ingredients that bring people together one bite at a time."
A harmless, humorous, and lucrative way to incorporate a sponsor into an entertainment program. But for New York Times reporter and blogger Robert Mackey, it demonstrated a different type of opportunity––a chance to plug a Palestinian effort called "B.D.S." (Boycotts, Divestment and Sanctions), which seeks to boycott products made in Israel.
Lets start with the absurd fact that Sabra hummus is not even made in Israel, but in the United States. Yes, its 500 employees are all right here in the U.S of A. But hey, why let the facts get in the way of a controversy for a cause. As even Mackey himself wrote:
Mr. Colbert's viewers were quite likely unaware of any political implications of the tongue-in-cheek endorsement.
No doubt. But that is why we can be thankful we have The Times to raise awareness:
…fans who support a Palestinian-led campaign to pressure Israel through boycotts, divestment and sanctions, or B.D.S., were dismayed by the gag. The hummus, which is produced in the United States, has been subject to calls for a boycott because it is made in a joint venture between PepsiCo and the Strauss Group, an Israeli food company that has provided financial support to the Israel Defense Forces' elite Golani Brigade.
So much hidden spice to digest in that one phrase. Yes, a tiny group of "fans" who support B.D.S. were apparently dismayed and expressed that disappointment on social media. But that's enough for the Times to assign or accept an entire piece to magnify that handful of advocates? I'm confident there were a host of other fringe groups offended by various Colbert interviews and gags this week as well. Just as troubling is the tortured connection The Times creates between Sabra and the Israel Defense Forces.
Maybe it's just a hummus bias. After all, it's a controversial dish and a Middle Eastern delicacy like this chickpea mash just makes for a delectable news "spread." But, of course, far more likely and disappointing, is just a shameless desire to amplify and support B.D.S.:
Any fans who expected him to champion a boycott of Israel — a country that enjoys nearly unanimous support from Republicans — were always likely to be disappointed.
Wait what? "Any fans who expected him to champion a boycott of Israel?" Sure, Colbert's Comedy Central character seemed to be a satire of mostly Republican pundits, but this is an entertainment program. Yes, Letterman could get political, but even if Colbert believed in said boycott, how exactly, could or should he "champion it" on The Late Show?
(It is also worth noting that the boycott movement was started by liberal Israelis… yes, people who actually live and work in Israel. They objected to Israeli occupation of the West Bank and Gaza and sought "to boycott goods produced by Israeli companies that operate on Jewish settlements atop Palestinian land.")
Mackey apparently fears the Colbert conspiracy doesn't end at that creamy Mediteranean dip. A Palestinian-American commentator named Maysoon Zayid was apparently troubled that Scarlett Johansson was booked for the next night. Aha. Another tongue tickling way to bring attention to the "cause":
Ms. Johansson inadvertently drew attention to the B.D.S. campaign last year, when she starred in a commercial for SodaStream, an Israeli product manufactured until this year in a factory in the occupied West Bank.
So what conclusions to draw from this insidious anti-Palestinian conspiracy brewing behind the scenes at this nascent network broadcast? First, Mackey informs us that there is more to the name of this evil appetizer than meets the eye:
Although calls to boycott Sabra have been heard on college campuses for several years, and the product's name is a term for Jews born in Israel, there was no sign in the segment that Mr. Colbert was aware of the debate.
Ah, so it's really just a handful of advocates, and The Times, who even noticed. . .that is, until they built an entire piece around it. Alas, maybe this piece, like Colbert's shameless plug, was demanded by an evil ancient amulet. But in this case, that amulet might just be a particular bias at the paper of record.
Here is the relevant clip, via CBS:
Have a tip we should know? [email protected]