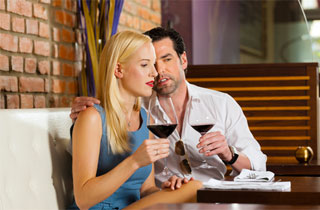 The average age of a resident in New York's Upper West Side neighborhood is about 92, or at least it feels like that sometimes, which completely explains this story: a group of residents recently attempted to ban a restaurant from serving wine in their outdoor seating area, because, and we quote, they "don't want children walking near 'internet people' meeting."
During a community board meeting, dozens of crotchety old residents protested a local wine bar's petition to serve alcohol in an outdoor dining area, for fear that it would attract too many people who met each other online. The wine bar, Riposo, is located in a very rich area of the Upper West Side — it's on the street of The Dakota, an exclusive apartment building where John Lennon famously lived — and locals describe it as a "bedroom community," which, if you've actually been on that street, definitely isn't.
According to the complaining residents, "internet people" like going to to the restaurant, because it serves a lot of wine with a limited food menu, and is therefore is a hotspot for internet people to do internet sex while drunk on, um, internet booze. From DNAInfo:
"I have seen people say, 'I met you on the Internet,' and you're putting that on the sidewalk?" [resident Al Salsano] said incredulously. "I don't want children walking near 'Internet people' meeting."

…"Have you ever gone to any of the sidewalk cafes in this neighborhood? Do you find them all rowdy and people staggering out of them all the time?" asked board member George Zeppenfeldt-Cestero.

Resident Chris Horwitz retorted that he wouldn't know because, "I don't go out to meet people I found on the Internet."
Their other fears: that college students from Columbia and Fordham would start hanging out there to consume mixed drinks on the sidewalk, instead of doing that where they belong (i.e., not the Upper West Side).
"This is how it happens," said one resident, who says she's lived on the Upper West Side for 50 years and fears an infestation of Internet People. "Once you have a cafe serving drinks on the street, then you have a precedent."
Riposo eventually got its license, despite their protests, and for the record, it's a fairly mediocre wine bar.
[h/t Jezebel]
[Image via Shutterstock]
— —
>> Follow Tina Nguyen (@Tina_Nguyen) on Twitter
Have a tip we should know? tips@mediaite.com