A little over two years ago, CNN and Fox came under a heap of criticism for initially misreporting the decision in the Supreme Court's first Affordable Care Act. It appeared Monday that a modest lesson had been learned: Supreme Court cases are long and complex, and perhaps should be read if not digested in full before being reported.
On SCOTUS' first case today, concerning public sector unions, CNN caught itself mid-speculation ("If it is Sam Alito, it's a bad day for unions") and reigned in its coverage until it was on more solid footing. "We are reading through that decision, so I'm not going to say what it is until we cross all our Ts and dot all our Is," anchor Carol Costello said:
Good thing, too, as the Harris case was more circumspect than many initially believed.
The New York Times was similarly provisional about its reporting of the so-called Hobby Lobby case: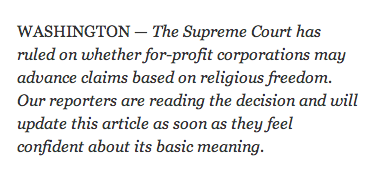 Meanwhile, Fox went meta, referencing Chief Justice John Roberts' decision that threw it for a loop two years ago, before speculating on the Harris public sector union case even as it was being read:
"It appears that just as the Quinn labor union case was 5-4 — again, we haven't seen it yet, we haven't heard a word out of Justice Alito's yet — it appears that will be the same breakdown in the Hobby Lobby case as well," Judge Andrew Napolitano said.
Fox then took a break so they could actually see and hear from the man in question. Good thing, too, as the Hobby Lobby case was more circumspect than many initially believed.
[Image via screengrab]
——
>> Follow Evan McMurry (@evanmcmurry) on Twitter
Have a tip we should know? [email protected]