Yet Another NFL Player Cut from Team After Yet Another Domestic Violence Arrest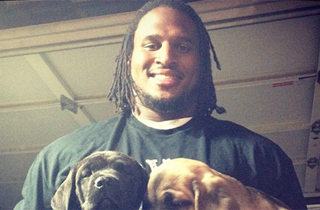 Last night, the NFL's Chicago Bears cut recently-signed defensive end Ray McDonald after he was arrested for allegedly assaulting his ex-fiancee while she held his baby. The fun part is, six months prior, he'd been cut from the San Francisco 49ers for sexual assault charges and also domestic violence charges. Clearly, no one was expecting this.
On Monday morning, McDonald was arrested and charged with domestic assault and child endangerment while visiting his ex-fiancee in Santa Clara, Ca. According to the police report, McDonald allegedly "physically assaulted the victim while she was holding a baby."
But back to that part where this was actually somewhat expected: the Bears took a gamble on McDonald after he was released from the 49ers following two arrests. The first, in August 2014, also involved his ex-fiancee and ended with another felony domestic violence charge. (The charges were eventually dropped after the woman refused to cooperate in the investigation.) A second arrest — this one involving an alleged sexual assault against another woman who claimed that she was drugged — led to the 49ers finally cutting McDonald. (We almost forgot to mention that time last May where McDonald was involved in an incident involving a woman and a gun.)
In any case, last week, Bears Chairman George McCaskey picked up McDonald, saying that he'd spoken to both him and his parents and came away believing that McDonald could change his ways. As he said in an interview that literally happened last week:
I was impressed with how sincere he was and how motivated he is. He understands, I think, that he could have well been facing the end of his football career. And he loves football. And he wants that career to continue. So I was impressed with his motivation.
While the Bears signed a $1.5 million contract with McDonald, they took pains to emphasize that none of the money was guaranteed.
"We believe in second chances, but when we signed Ray we were very clear what our expectations were if he was to remain a Bear," Bears GM Ryan Pace told the NFL Network in a statement. "He was not able to meet the standard and the decision was made to release him."
[Image via Ray McDonald/Instagram]
—
>> Follow Tina Nguyen (@Tina_Nguyen) on Twitter
Have a tip we should know? tips@mediaite.com