Nick Cannon Pretends To Kill Dog In Perhaps The Least Funny Publicity Stunt Ever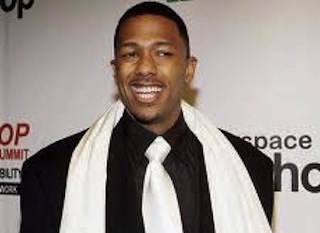 Here at Mediaite, we spend a lot of time writing about outrageous bloopers that happen in the world of media. However, this also means that we frequently get directed to some "bloopers" or "accidents" that are clearly just publicity stunts designed to get headlines. We try to avoid these (for example: the completely spontaneous streaker at the MTV Europe Music Awards who toooootally wasn't a plant at all…right?), however, some publicity stunts are so stupid, misguided, and just plain desperate that they deserve to be called out and mocked.
We found one of those today in the form of comedian and DJ Nick Cannon who hilariously pretended to kill a dog.
Here's the story. Nick Cannon's radio show Rollin' has created and is publicizing a story in which Cannon tied his co-host's puppy to a bunch of balloons and let it float over the Hudson River. Here's the text from that article entitled "How Many Balloons Could Lift Sarah Lee's Dog? About 50. Now Can You Help Us Find Her?":
"This is NOT good…

This morning on Rollin', Nick Cannon's prank on Sarah Lee went a little too far… like over the Hudson River and into NEW Jersey far! Sarah Lee's precious little puppy, Charlie Roo, is now in her very own version of Disney's Up!

If you see her flying over your house, could you like… let us know? kthxbye…

During the Halloween festivities, Nick and Sarah Lee had a bet. The bet was over who could carve the best pumpkin. The wager was if Nick won, he got Sarah's little yippy dog, Charlie Roo. If Sarah won she would get to watch Dem Babies.

Well Nick won control of Sarah's pup. So what's he supposed to do now?

Nick has always wanted to know how many balloons it would take to lift lil Charlie off the ground, so he decided to get it done on the show today."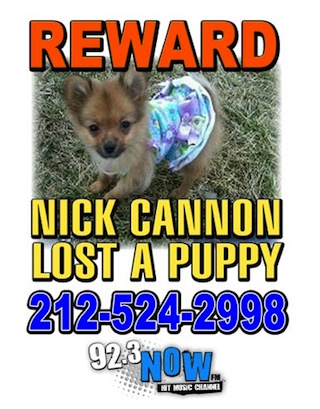 That article is accompanied by photos which purport to show the little dog floating into the sky as well as a link to a video that appears to be from some random person who caught it all on their cell phone.
Lets get this out of the way first; THIS IS 100% FAKE. While I was not there and I'm, shockingly, not a regular listener of Rollin', I can be fairly certain that
a) It would take more than 50 balloons to carry a living dog into the sky, and
b) If this actually happened, the radio station wouldn't be making wacky Up references.
c) That camera guy in the YouTube video is maybe the worst actor in the history of mankind.

However, Cannon and the station are still trying to play this off as real with Cannon discussing his impending arrest on Twitter.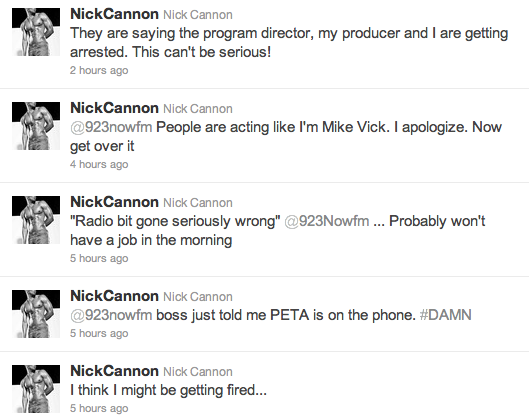 Unsurprisingly, Twitter is blowing up with listeners telling Cannon he should be ashamed of himself. Unsurprisingly, many of these people aren't fooled and are calling him out.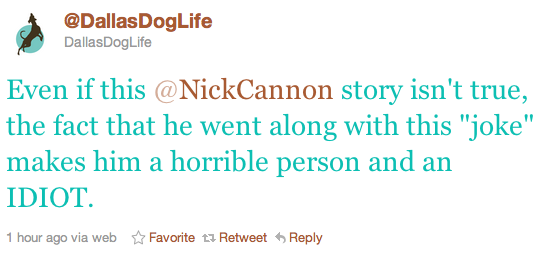 I don't know if this is the beginning of a contest for the radio station. I don't know if this is just a goof to see how many people he can fool. All I know is that this prank just doesn't work.
Look, I'm as big a fan of Andy Kaufman as anyone. I like a good hoax. I thought Craig Rowin's million dollar prank from a few months ago was brilliant. However, there's just something so unpleasant and poorly thought out about this. And, did I mention "desperate" earlier? I did? Oh, well, lets do it again just for safety. Desperate.
Clearly, either Cannon or his team wanted headlines. I hope he's happy with the one I gave him.
Watch the YouTube video below:
(h/t Reddit)
Have a tip we should know? tips@mediaite.com