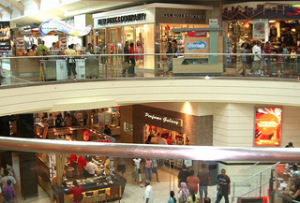 Police are responding to a possible shooting incident at the Garden State Plaza in Paramus, New Jersey. People inside the mall said they heard shots fired around 9:30 P.M., and WCBS is reporting that as of 10:15 P.M. there is still an active shooter on the scene and people have been hit.
Witnesses told NBC 4 that the gunman was "a man dressed in all black, including a black helmet," and was carrying a rifle inside the mall."


One witness told CNN's Anderson Cooper what happened on the scene, saying he heard multiple shots fired outside the Nordstrom department store. Watch the video below:
UPDATE @ 11:08 P.M.: So far, there have been no reports of any casualties thus far. And National Review's Kathryn Jean Lopez is on the scene and tweeting what was going on around her.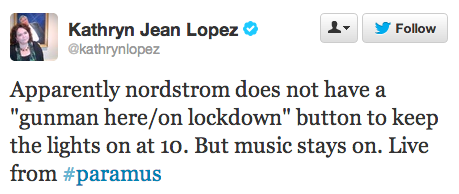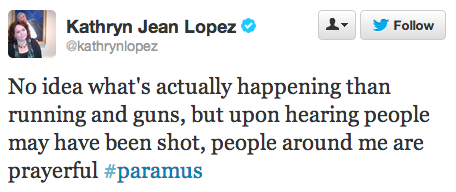 NJ.com spoke to another witness who described the shocking scene:
UPDATE @ 11:25 P.M.: Paramus mayor Richard LaBarbiera is on the scene and has been updating media outlets on the situation on the ground.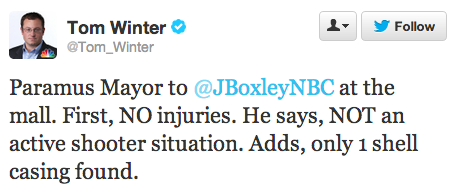 Police are saying only one shot was fired, and SWAT teams have arrived on the scene.
UPDATE @ 11:28 P.M.: Lopez just tweeted this out.

UPDATE @ 11:41 P.M.: Watch video of Mayor LaBarbiera's comments to the press here, via CNN:
UPDATE @ 12:15 A.M.: News 12 New Jersey obtained a cell phone video taken inside the mall.
UPDATE @ 12:22 A.M.: Authorities at the scene are now saying they believe the shooter has left the mall.
UPDATE @ 11/5 9:08 A.M.: The shooter was found dead at about 3:20 a.m. of an apparent self-inflicted gunshot wound. He has been identified as Richard Shoop, 20.
Have a tip we should know? [email protected]
Josh Feldman - Senior Editor