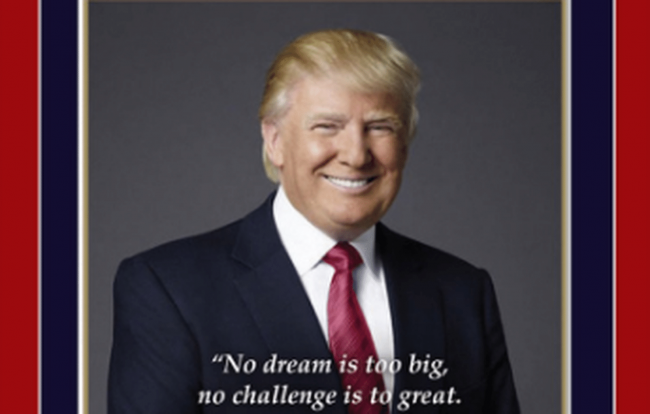 As if the Trump administration didn't have enough problems on their plate at the moment, they can now add third-grade spelling and grammar to the list.
The Washington Post reported Monday that numerous social media users had spotted a little error on President Trump's inaugural portrait. The Library of Congress is known for selling portraits of each incoming president taken on the day of their inauguration. President Trump, of course, is no different. Superimposed over his portrait is this inspiring quote:
No dream is too big, no challenge is to great. Nothing we want for the future is beyond our reach.
Adverbs can be a difficult thing to master, apparently.
Adding insult to injury — and furthering the comedy gold — was the description of the print on the Library of Congress' website: "This print captures the essence of Donald Trump's campaign for the presidency of the United States."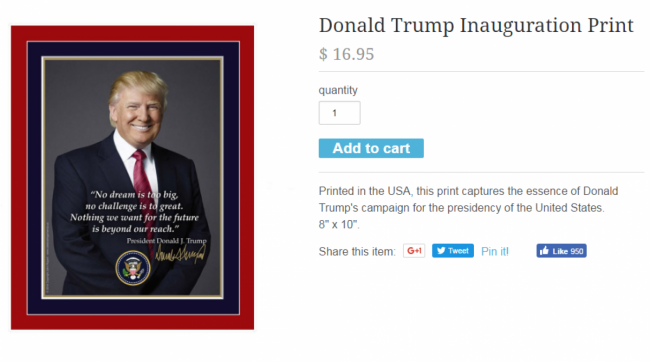 Granted that the typo is through no direct fault of the Trump administration, it nonetheless comes after a week which saw a number of egregious spelling errors that were the fault of the administration. In the list of allegedly underreported terror attacks released by the White House earlier last week, there were a number of errors, including "attaker" instead of "attacker," "San Bernadino" instead of "San Bernardino," and "Denmakr" instead of "Denmark." Not to mention the glaring comma splice that was President Trump's tweet after the Ninth Circuit ruling.
The print, with the obvious to/too typo, was on sale through Sunday night. It isn't known if any of the $16.95 prints that were sold prior to the typo being caught have been recalled.
[image via screengrab]
[h/t: The Washington Post]
Have a tip we should know? tips@mediaite.com