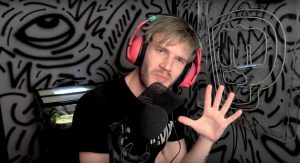 Contrary to a lot of recent articles swirling around, it is highly unlikely that YouTube's biggest star is going to delete his channel because the site is punishing him for being white.
Felix Kjellberg (aka PewDiePie) is one of the most popular YouTube stars worldwide, and his channel dedicated to vlogs and video games has reached 49.7 million followers. Recently, Kjellberg made waves online when he announced that he would delete his channel once it reaches its 50 millionth subscriber.
Throughout his video, Kjellberg said his reason was because YouTube has been changing its algorithm, not only pushing "clickbait" content on users, but also causing him and other content creators to lose out on views and subscribers. Kjellberg went on to say that he wasn't actually going to quit YouTube, and it's highly likely that he was trying to create Internet drama like he is known to do from time to time.
In recent days, a lot of attention has gone to the last part of Kjellberg's video, where he accuses YouTube of trying to replace him with Indian-Canadian online personality, Lilly Singh.
"YouTube wants my channel gone. They want someone else on top. Someone really extremely cancerous, like Lilly Singh. I'm white. Can I make that comment? But I do think that's a problem."
Kjellberg is hardly the only YouTube celebrity to complain about the site's algorithm. Sportsrageous notes that his fans are used to taking his words with a grain of salt, and it was probable that he was using his whiteness remarks to create a sarcastic conspiracy theory to address the issue more humorously.
It's worth mentioning that Kjellberg addressed the kerfuffle in a tweet that has since been deleted: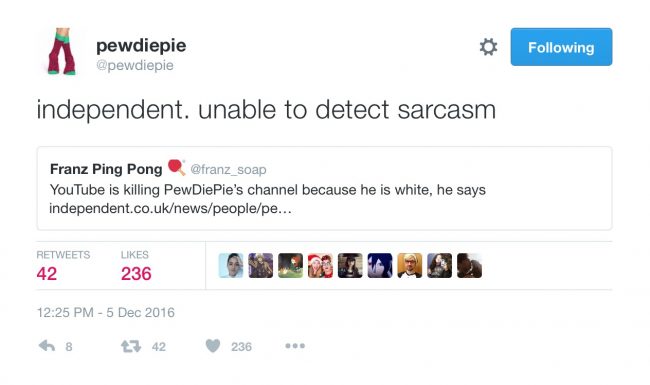 News vlogger Phillip DeFranco broke this down further, which you can watch below:
[Image via screengrab]
— —
>> Follow Ken Meyer (@KenMeyer91) on Twitter
Have a tip we should know? tips@mediaite.com