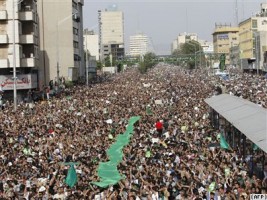 Complain all you want about Fox. Rage about the fact the White House has foolishly decided it's a smart idea to return Fox coverage fire with (White House?) fire. At least we don't live in Iran.
The Iran election and the subsequent protests, which took place back in June are starting to feel like another lifetime. Not a surprise considering President Ahmadinejad's brutal crack down on both the protesters and the press. Today the New York Times reports on what life is like now for journalists remaining in the country. One short word: brutal.
The editors of some opposition blogs, which reported the killings and the mass burial of protesters, have gone into hiding, and their whereabouts are not clear. The homes of some journalists, like Mr. Maleki, have been ransacked.

Mahmoud Shamsolvaezin, a veteran journalist and media expert in Tehran, estimated that 2,000 Iranian journalists had lost their jobs recently. He said about 400 of them had approached him for reference letters so they could get work abroad. "Journalists are leaving more than other groups because the government has closed newspapers and it has intimidated and terrorized them," he said in an interview.
Side note: Judging by the byline on the article (Nazila Fathi) and dateline (Toronto), the NYT's own journalist in Iran may have been part of the mass exodus. As we noted back in June, Fathi was the Times eyes on the ground during the protests and the fact she is filing this story from Toronto suggests she too was able to make a safe exit from the county.
Have a tip we should know? tips@mediaite.com