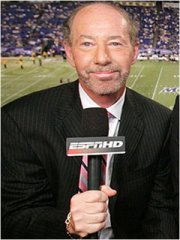 Responses to Pardon The Interruption host Tony Kornheiser's suspension from ESPN seems to be in universal agreement that it is an overreaction to his comments about Hannah Storm.
But the reasons vary greatly. Here's a look at some of the post-suspension reaction:
Former CNN anchor Daryn Kagan now runs DarynKagan.com, contributes to Oprah's satellite radio channel and more. In a blog post "ESPN Blew It," she makes her case against the suspension:
The difference is Hannah isn't some little girl, she's a well-respected peer and colleague. I promise you ESPN would not have suspended Kornheiser if he made a comment about John Kruk's weight or if he thought Mike Golic wore an ugly shirt. Besides, Tony is hired to do opinion. That's his job! You're suspending him for the very thing you're supposed to pay him for.
She argues that ESPN could have used this opportunity as a learning moment, and to laugh it off by all sides. "I mean have you seen Tony Kornheiser?" she wrote. "I'm a huge fan of his PTI show, but really, someone who looks like Tony commenting on anyone's appearance? That's the softest toss for a punch line ever."
> Update: Some people definitely do agree with the suspension, including Toure, Rachel Sklar and Spud at Inside Cable News.
Slate columnist Jack Shafer had a different reason for arguing against suspension, and the sub-head says it all: "He may be a rotten bastard, but his ESPN bosses are idiots for suspending him." Shafer's column details past cases of Kornheiser's on-air bitterness and vindictiveness, before looking for the real reason for ESPN's response:
The fact that ESPN has suddenly taken to punishing Kornheiser for being an oozing bag of pus and venom raises more questions about the network than it does about the employee. I suspect that the network didn't object strongly to Kornheiser's critique of Hannah Storm's red go-go boots and Catholic-school plaid skirt…What's probably appalled ESPN is Kornheiser's literary reference about Storm being "a Holden Caulfield fantasy at this point," a reference that probably went over the heads of 99 percent of his listeners.
The Big Lead, which broke the story yesterday, was quick to express surprise after what seemed like a shift in the way ESPN dealt with potentially embarrassing situations within its company:
ESPN must loosen up. (We thought this problem had been solved over the last year – the network had come a long way from the early 00's – but apparently not.) Why can't it have its top talent – Bill Simmons, Tony Kornheiser, etc – making commentary about the media? Colin Cowherd opened his show today talking about Mike Wilbon's silly take on Tiger. Is he going to be suspended next? The more restrictions you place on your talent, the easier it is to lose them when it's time to re-sign them.
And The Sporting News' Dan Levy thought Kornheiser's original apology Friday would suffice: "I wasn't surprised when Kornheiser apologized, but frankly, I'm surprised that the apology wasn't enough."
One interesting side story here is that, because of the Two Tony's factor – Radio Tony Kornheiser and TV Tony Kornheiser – we'll get to hear from the ESPN host every day of his suspension. He'll continue his radio show, separate from ESPN and the locale where he originally made the comments in question. Will he react to the reactions? He may have a thought or two about Shafer.
—–
» Follow Steve Krakauer on Twitter
Have a tip we should know? tips@mediaite.com